Smartxide Punto Stands Out in Aesthetics Medicine
The SmartXide Punto CO2 laser concentrates over 30 years of expertise in dermatology and aesthetic medicine by utilising the capabilities of a high-powered CO2 laser, but with the unique addition of PSD® technology and CoolPeelTM. This latest advancement in CO2 laser systems from DEKA provides users with maximum levels of effectiveness and treatment possibilities for any skin type. 
SmartXide Punto is the world's first fractional CO2 laser with exclusive PSD® technology, maximising targeted action in skin rejuvenation, achieving performance levels never attained before in dermatological applications. This CO2 laser selectively reaches surface tissues and deeper areas, ensuring maximum reliability in controlling the application with minimal thermal damage – hugely reducing patient downtime associated with fractional CO2 laser treatments. 
Personalised Pulse Shape Selection Thanks To PSD® Technology
DEKA's SmartXide Punto skin resurfacing CO2 laser has been designed to provide a breakthrough in aesthetic and dermatological applications. The four available pulse shapes and the CoolPeel mode allow professionals to choose the right pulse for any skin condition and treatment area.
SmartXide Punto offers maximum reliability in controlling thermal damage and patient recovery time with the following pulse options: 
Smart Pulse 

DEKA Pulse

H-Pulse

Standard CW mode.

CoolPeel™ – CO₂ Treatments Just Become a Lot Cooler
CoolPeel™ is a brand new way to deliver the benefits of a traditional CO₂ resurfacing treatment, with a safer and more comfortable approach, by targeting just the superficial layer of skin tissue.
What truly makes the SmartXide CoolPeelTM treatments unique is how it leverages the exclusive H-Pulse: a high-peak-power short pulse that delivers a fully-ablative treatment without causing thermal damage to surrounding tissue.
Without thermal damage, downtime is drastically minimised. At the same time, the system delivers impressive superficial, skin-resurfacing results.
Medical practitioners can select the precise power, density, and pulse durations needed to tailor and optimise treatments to fit patients' expectations.
CoolPeelTM also allows practitioners to treat patients of all ages seeking fractional CO2 laser skin resurfacing.
Uncompromised Versatility
CO2 lasers are the most reliable and effective laser source in this field. The SmartXide Punto guarantees complete control of the vaporisation depth at all times while performing delicate and precise superficial ablations on numerous dermatological lesions. In as little as one session, dramatic results can be achieved.

Thanks to uncompromised versatility, the SmartXide Punto is capable of successfully and safely treating a full range of treatments: from the most superficial to the most complex case, such as:
Scarring
Surface pigmentation
Deep wrinkles.
Very delicate areas such as neck and eyelids
Phototypes with a high PIH (Post Inflammatory Hyperpigmentation) risk.
With the addition of the surgical handpiece, SmartXide Punto widens the possibility of performing precise and delicate laser skin surgery, including Blepharoplasty and Madonna Eyelift. 
New Handpieces: CO2 just got better…
2023 introduces a new pair of handpieces for the SmartXide Punto: μ-SCAR 3 and DERMASCAN.
Designed to enhance the Punto's flexibility and functionality, these two handpieces give clinicians access to a wealth of new treatments and procedures for dermatological surgery and scar management: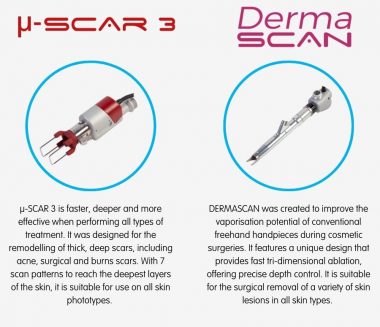 Get in touch to speak to a specialist and find out more. 
---
In partnership with DEKA Innate Ability.