The SmartPICO Stands Out in Medical Aesthetics and Dermatology
The SmartPICO by DEKA is designed to provide maximum flexibility in treating various skin concerns caused by aging such as pigmented lesions, dyschromias, post-inflammatory hyperpigmentation, and melasma, as well as tattoos, all with minimal contraindications. The system is capable of combining four different emission modalities – PICO, NANO, DOUBLE, and THERMAL – in two different wavelengths, 532 and 1064 nm. The handpieces' varied shapes and sizes, combined with the four emission modalities, make the SmartPICO one of the most versatile devices available in the market today.
Why Choose SmartPICO?
Maximum flexibility of use and treatment thanks to the spot shapes and different sizes and different emission modalities (nanoseconds, picoseconds, thermal, double pulse).
Minimal downtime and side-effects.
High efficacy of results due to the high pulse energy (2GW peak power).
Flexibility, Versatility, Consistency
In addition to the flexibility of the emission modalities and versatility of the handpieces, the SmartPICO's round and square spots are unique in that they deliver a consistent pulse, ensuring even energy distribution across the entire contact area. This feature allows for greater control over the amount of energy delivered and minimises the risk of undesirable side effects caused by uneven energy distribution.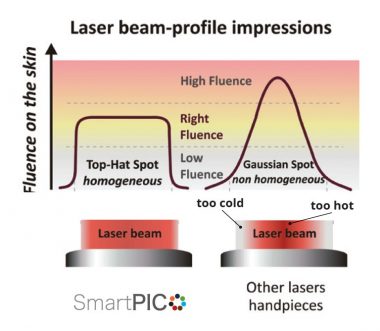 Superb Skin Rejuvenation 
Thanks to uncompromising versatility and consistency, SmartPICO is capable of treating a range of skin concerns safely and successfully, including:
Pigmented lesions

Dyschromias

Post-inflammatory Hyperpigmentation (PIH)

Melasma

Acne Scarring
Scars
Rejuvenation and Toning
As a Q-switched laser, the SmartPICO is capable of offering the Carbon Peel facial (also known as a Hollywood facial , one of the world's most in-demand aesthetic treatments designed to leave the skin smoother, brighter, and glowing.
Get in touch to speak to a specialist and find out more. 
Superior Tattoo Removal
The combination of nanosecond and picosecond pulses has proven to be highly effective in tattoo removal as it enables a multi-step approach based on the tattoo type and skin condition. The initial rough removal phase using nanoseconds aids in expelling the largest pigments, followed by a finishing phase utilising picoseconds to break down the pigment into tiny particles that can be easily eliminated through the body's phagocytosis process. The SmartPico technology is especially proficient in treating challenging tattoos, such as those that are faded or deeply penetrated.
---
In partnership with DEKA Innate Ability.