Courses in Laser & IPL Hair Removal
The Lynton Training Academy provides a range of hair removal training courses. Whether you are new to IPL and laser hair removal or an experienced practitioner seeking further formal qualifications we can offer training ideal for you.
Our courses include all you need to know from the theory and science behind laser hair removal, through to the practical aspects of treatment delivery such as client care and communication.
All our lecturers have many years of experience in training and in carrying out hair removal treatments within clinics using many different Laser and IPL systems.
The Lynton Training Academy is equipped with the latest interactive audio-visual technology.
Our practical training rooms house our industry-leading aesthetic devices including our range of IPL & laser hair removal machines. Training includes live demonstrations and hands-on experience with live models.
We have a wide variety of systems and technologies available for you to gain practical experience with (IPL, Alexandrite laser, Nd:YAG laser, diode laser). We believe no other training centre has this number or range of devices available.
Laser & IPL Hair Removal Training Courses to choose from include:

Hair Removal with Advanced Technologies
Scroll down to see the hair removal training courses scheduled in the next few months and select the one most suitable for you.
There are no pre-qualifications needed for this one day theory course. Suitable for anyone who has an interest in learning about hair removal applications with advanced technology, such as Laser and IPL. You will learn about the hair removal process and how it works, the different technologies (IPL, Alexandrite Laser, Long Pulsed Nd:YAG Diode) and wavelengths, client care and communication.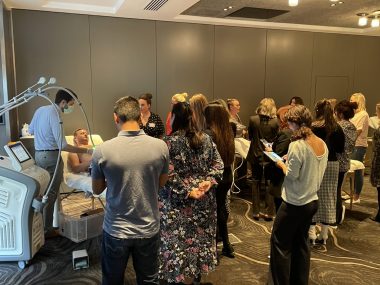 Skin & Laser Applications (in conjunction with The University of Manchester)
There are no prerequisites for this comprehensive 3-day course. It is especially suited to those of you who are looking to set up your own skin clinic and want to learn more about what laser and IPL systems can achieve.
The course includes the Core of Knowledge, which provides the certification required to obtain insurance for laser & IPL systems. You will learn the fundamentals of laser technology including an overview of different treatments.
The training includes LIVE demonstrations and practical hands-on experience treating a range of the most in-demand aesthetics concerns.
Please note that further training on your own machine is always advised. Anyone who invests in a Lynton system directly from Lynton always has full system training included.
VTCT Level 4 OFQUAL Qualification in Laser & Light Therapies: Hair Removal & Skin Rejuvenation
Our VTCT Level 4 Award in laser and light treatments including hair removal is Ofqual approved. This 7-day course is perfect for those who are new to the industry or for existing practitioners who want further training or a formal qualification, specialising in hair removal and skin rejuvenation with Laser and IPL.
The theory days will be carried out remotely via a 'virtual classroom' to minimise travel time, whilst the practical will take place in our state-of-the-art Lynton Training Academy in Holmes Chapel, Cheshire. You will learn how to perform hair removal on skin types 1-6 and skin rejuvenation typically on skin types 1-3.
A Level 3 Beauty, nursing, or medical qualification is required to sit this Level 4 course. Completion of our VTCT Level 3 Award in Anatomy and Physiology will allow you to progress to this Level 4 course.
VTCT Level 3 OFQUAL Qualification in Anatomy and Physiology
This 3-day interactive virtual course is ideal for people without a beauty or medical background who want to achieve higher aesthetic qualifications. This course covers the structure and function of the various body systems from skin, hair and nails through to the digestive, respiratory and nervous system. Essential knowledge to help you understand the way in which our bodies work and go on to confidently assess and advise your clients about the best treatments for their concerns.
You will have the opportunity to ask questions directly and interact with your tutor and classmates, ensuring a very positive learning experience.
Read more about the Lynton range of laser and IPL hair removal machines.
Click on the course below to find out more and Book a Place: