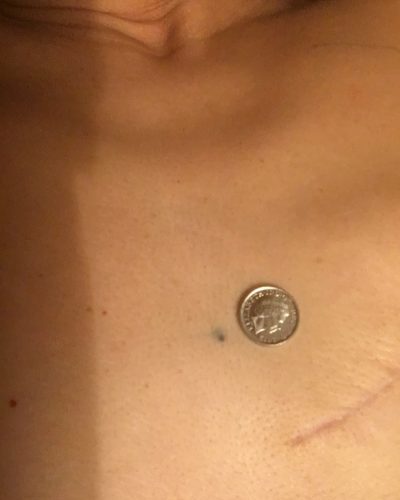 We are proud to share that one of our family of advanced skin care clinics is now offering a free radiotherapy tattoo removal service to support breast cancer patients.
October is National Breast Cancer Awareness Month, and we see more pink ribbons and banners during this month than at any other time of the year. However, a cancer survivors' story does not end in October, it's something which stays with them for 12 months of the year.
Once a patient has been diagnosed with breast cancer, a CT scan is required before radiotherapy treatment may begin. The patient is then tattooed with 1-5 pinpoint black or blue dots, allowing for precise delivery of the radiotherapy at the site of the cancer. While some people consider their radiation tattoos to be symbols of courage and survival, others desire to be free of the physical reminder and get their tattoos erased.
The Beauty Editor, an advanced Laser Skin Clinic in Stansted in Essex, is now offering a free radiation tattoo removal programme, to help the many men and women who have faced and continue to battle breast cancer.
The Lynton Lumina is a state-of-the-art Laser and Intense Pulsed Light (IPL) system. The Lynton Lumina is a medical-grade, award-winning system that is utilised in NHS and private hospitals throughout the United Kingdom. Its active Q-Switched laser is widely regarded as the gold standard in tattoo removal, with excellent clinical results.
While this radiotherapy tattoo removal service is free, registration is necessary. To make sure you're a good candidate for tattoo removal, you'll need to have a full medical consultation.

So, if you're ready to have your radiation tattoo removed for free and have received clearance from your oncologist, call the Beauty Editor today at 01279 897 800 to schedule your consultation, or go to visit their website here.