ResurFACE® 
Many men and women in the UK suffer from skin conditions and have concerns that they are 'with them for life'. They feel like they have no real treatment solution. With Fractional Laser, you can offer skin resurfacing treatments that totally rejuvenate the skin, leaving a smooth, youthful and glowing appearance. Fractional Laser treatment is highly recommended for practitioners who want to offer a smoother skin texture or an improvement in the appearance of stretch marks.
The award-winning ResurFACE® Fractional Er:YAG Laser delivers ablative treatments for dramatic rejuvenation results. Helping improve the appearance and smoothness of a patient's skin, ResurFACE®  Fractional Laser delivers very similar treatment results to other, more aggressive treatments such as CO2 laser and injectable options. This laser results in very few side effects and a much shorter downtime period enabling practitioners to treat more clients in smaller time frames, helping increase revenue capabilities.
Get in touch with at Lynton Lasers to speak to a specialist and find out more. 
Most Innovative Aesthetic Treatment of 2014
Voted 'Most Innovative Aesthetic Treatment of 2014' in its first year of launch, Lynton's ResurFACE® Fractional Resurfacing Laser (2940nm) offers a unique opportunity to practitioners looking to expand their advanced treatment options.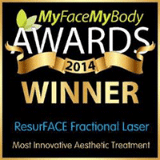 Treatment Options
ResurFACE® Fractional Er: YAG Laser can be used to treat a broad range of commonly occurring conditions including:
Acne scarring
Skin rejuvenation 
Stretch marks
Fine lines and wrinkles
+ more.