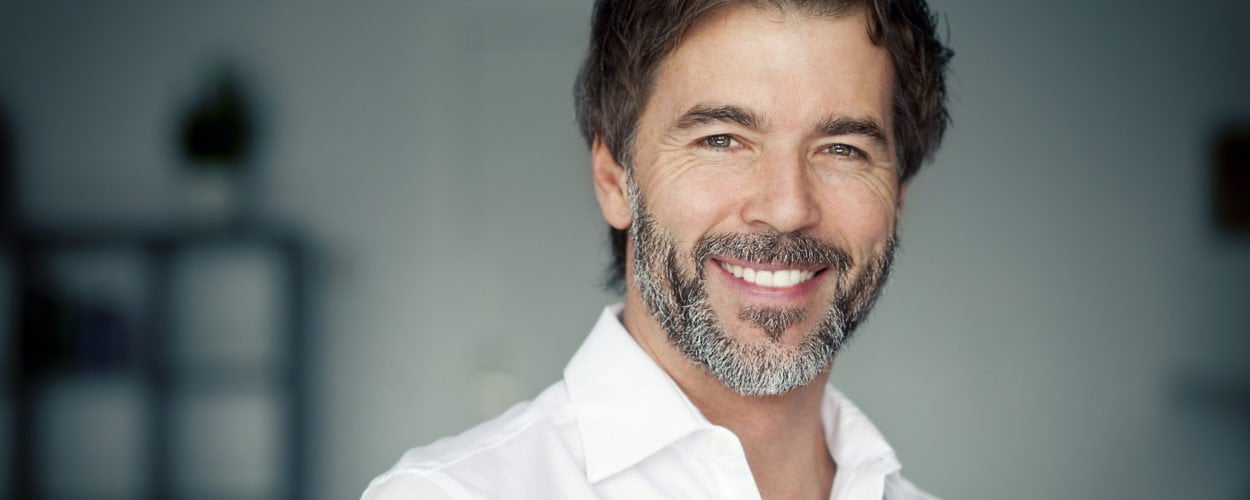 According to The Aesthetic Society, men are receiving more aesthetic treatments now more than ever, having increased the number of non-invasive procedures undergone by 20% in 2019 vs. 2018. Men are becoming savvier with skincare and more comfortable receiving anti-ageing treatments. So how can you cater to this up-and-coming patient population?  Here is what today's man is looking for:
Fast, No-Downtime Procedures with Natural Results:
Men are seeking treatments that provide lasting results with minimal to no effort on their part. Lunch time procedures are extremely popular in this demographic. Men also typically do not want to appear enhanced, so natural-looking results are more desirable dealing with this patient population.
Treatments That Address THEIR Unique Concerns:
Men are also focusing on more treatments that correct the signs of aging in the facial regions, such as the glabella and upper eyes. The chest, abdomen, and back are also areas of interest for body contouring, fat reduction, and laser hair removal treatments. It is helpful to consider this when selecting which treatments to market towards this patient population.
Here Are the Top 5 Aesthetic Treatments that Men Are Looking For:
Anti-Wrinkle Injections & Filler
This tried and true combination does not surprise most. Anti-wrinkle injections and filler present an amazing solution for those looking to target specific areas. Over 10% of the anti-wrinkle treatments performed this year were done on men, and their presence in this space is growing.  For those that are looking to target specific areas, Subnovii is the most advanced plasma technology on the market today and offers providers predictable results, faster healing time, and ease of use.  Most used around the eyes,  Dermatologist and Anti-Aging specialist, Dr. Jordana Herschthal states "The Subnovii has been a great addition to our aesthetic practice. Its unique and patented LF+ technology creates reliable results and is especially impressive for skin around the eyes, lips, and neck." Subnovii utilizes your bodies unique healing mechanisms and results can be seen after just one treatment.
Laser Hair Removal
Laser hair removal treatments are the most in-demand non-surgical procedures behind injections (The Aesthetic Society, 2019). And let's face it, men aren't the most tolerant of pain especially when areas are significant like backs and legs. This is why pain-free alternatives to traditional laser hair removal, such as the Motus AY and Motus AX, are becoming a staple in laser hair removal for men. The Motus AX uses contact cooling along with Moveo technology to safely reduce hair growth for all skin types without the traditional 'rubber band snap' patient experience. Men's Health recently called the Motus AX a "game-changer" for laser hair removal for men.  See our range of laser hair removal machines here.
Celebrity dermatologist and founder of New York City's The Dermatology and Laser Group, Dr. Akhavan, shared, "For men, who traditionally have coarser hair, and a little bit of a lower pain tolerance, the main issue and impediment to getting laser hair removal has been pain. But with the Motus, you do not feel anything happening. Instead of delivering the energy in these large chunks like in a traditional laser, it breaks the energy down into smaller chunks and delivers them very rapidly, so you don't feel pain."
Non-Surgical Body Treatments
Both non-invasively and surgically, body treatments are rising in popularity amongst men. Onda is the newest body treatment on the non-invasive aesthetic market from the global leader in aesthetic devices, DEKA. Onda offers a powerful combination of patient experience and results – to be one of the first in your area to provide this treatment. To see more about our range of non-surgical body sculpting machines here.
Photorejuvenation
Sunspots, skin tone, and texture are common concerns among the aging male population. Men are seeking out Photorejuvenation treatments to address these concerns. Laser platforms, like the Lumina, are best suited for photorejuvenation. But what sets Lumina apart is that it is the most advanced IPL + Laser platform on the market today with interchangeable IPL Blocks that enable you to treat all areas. With over 4 handpieces, the Lumina offers practices an all-in-one platform solution without sacrificing treatment efficacy.
Micro-Ablative Resurfacing
Men are amongst your top clientele here. Micro-ablative treatments ranked higher with male patients when compared to female patients in 2019 (The Aesthetics Society). In fact, micro-ablative procedures saw a 71% increase in popularity amongst all patients in 2019 alone. To profit on this rapidly growing treatment, you want to ensure you provide the best patient experience possible. Enter the SmartXide Punto CO2 which is revitalizing the CO2 marketplace. The Punto CO2 has the unique CoolPeel modality to perform the first CO2 resurfacing treatment that requires no numbing and only minimal downtime.  Additionally, this procedure can be performed in as little as 15 minutes (we are seeing ~5 minutes among seasoned professionals) making it the ultimate procedure for any patient on the go. Most patients experience light-pinkness post-treatment, similar to a sunburn which is gone in a few days and fantastic results.
Men are taking the aesthetic space by storm. Is your business positioned to benefit from this growing segment?   
Learn more about the technologies above and how they are the best possible treatments for men – visit lynton.co.uk or contact a Lynton Business Development Consultant.
SmartXide CoolPeel is available exclusively in the UK from Lynton. Contact Us Today to learn more.