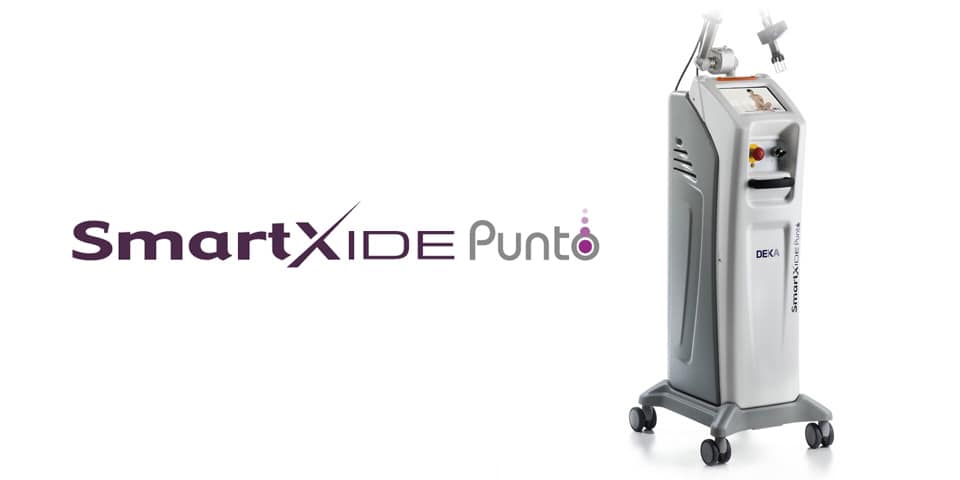 Every once in a while, a device so versatile and so revolutionary is released that we can scarcely believe it. Thanks to our partner, DEKA, we've been able to see and experience the SmartXide Punto first-hand and we can say with absolute certainty that it is the very best fractional CO₂ device on the market. 
SmartXide allows you to perform several different procedures that target a range of concerns without the need to switch to a different device. This unparalleled versatility means you can add several revenue streams to your practice and reinvigorate your business! To learn more about how you could use the SmartXide Punto to treat your patients, read on and discover just what you're missing.
CoolPeel™, CO
2
But Cooler
CO2  lasers have long been considered the gold-standard treatment for improving skin texture and the visible signs of ageing. Yet, historically, these results went hand in hand with long periods of downtime. Thanks to the invention of CoolPeel™, DEKA have made this a thing of the past.
DEKA's dedicated team of experts have created the exclusive H-pulse technology, which delivers high energy in extremely short pulses for deeper ablation and impressive results. They have manufactured a device that produces impressive skin resurfacing results, without causing damage to the surrounding tissue. This is partly due to DEKA's innovative spray mode, which minimises pattern overlap for more consistent treatment. This means that treatment is delivered safely and comfortably. Patients are also able to return to their normal activities quickly, without encountering disruption to their daily lives. If your patients are looking to renew their once youthful, supple skin, SmartXide Punto is the only device you need.
Not only does SmartXide Punto improve the appearance of fine lines, uneven skin tone and large pores, it can also be used in the treatment of deep wrinkles, which are notoriously difficult to address. 
More Than Just Skin Rejuvenation
With the global skin rejuvenation market size set to reach roughly £177.6 million by 2027 (rising by roughly £82.1 million based on 2020 figures), you need to be sure that you can meet all the needs of your patients. Doing so requires a device capable of performing several tasks, which is where SmartXide Punto comes in. With SmartXide Punto, you will be able to improve your patients' skin if they have concerns surrounding scarring too.
Those with acne, surgical and even traumatic scarring will benefit greatly from treatment with SmartXide Punto. This device will encourage the skin to generate new collagen formations, resulting in rapid tissue regeneration and improving the appearance of scar tissue.
In addition to this, SmartXide Punto enables you to treat age spots with ease. This concern is typically associated with the ageing process but often affects younger clients who have exposed their skin to the sun over long periods of time. 
Age spots can be managed effectively thanks to another exclusive SmartXide feature, PSD® (Pulse Shape Design) technology. This allows you to precisely set treatment parameters and control the level and depth of ablation and thermal energy applied to the skin. SmartXide Punto excels at overall skin rejuvenation, as well as the treatment of age spots. Patients with age spots often have concerns about the visible signs of ageing too, which you'll be able to target with SmartXide Punto.
Perform Minor Surgery With SmartXide Punto 
"I have done 6 blepharoplasties in the last two weeks and the results are unbelievable with reduction of swelling and bruising – I am loving it and the patients too."
–
Mr Ali Ghanem, Medical Director, Ghanem Clinic London – Bahrain and Cranley Clinic
Another reason why Smartxide Punto is so popular is because practitioners can also use it to perform minor skin surgery, such as the removal of benign pigmented lesions, and Blepharoplasty, which is also known as laser-assisted blepharoplasty. Blepharoplasty gives patients a wide-eyed look as collagen is stimulated, thus tightening the skin around the delicate eye area. It is a relatively fast procedure wherein patients can see results quickly, with minimal downtime and bruising.
There's almost no end to the treatments that can be performed with SmartXide Punto, the star of the SmartXide series. With another member of the SmartXide series, the SmartXide Touch, you can even perform hair restoration, gynaecological treatments, and even more advanced surgical procedures. SmartXide Touch was the founding member of the SmartXide series and as the world's first fractional CO2 laser, it paved the way for SmartXide Punto.
A SmartXide treatment won't just reinvigorate skin, but your practice too. If you're yet to experience this spectacular device for yourself, you're missing out on a vast array of treatment capabilities. 
Get In Touch
To find out how to make your practice shine, email us at info@lynton.co.uk or call us on 01477 536 977. Don't forget to stay connected and keep up with all the latest Lynton news by following us on Facebook and Instagram today.