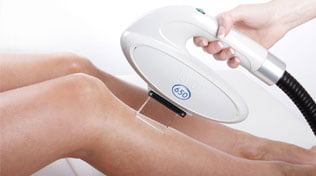 IPL Hair Removal – Find Out More About One Of The UK's Most Popular Treatments…
As 2016 ends, the popularity of IPL treatments is on the up! With numerous features in the glossy magazines and 
national newspapers, IPL treatments for hair removal are continually being booked out with clinics across the UK.
IPL is known as Intense Pulsed Light is a light therapy used to perform many dermatological procedures throughout the beauty and aesthetic industries. In most cases, the technology uses a high powered handpiece to deliver multiple wavelengths from a light source. Filters are then used to emit a chosen wavelength to the skin depending on the reaction you are trying to achieve as different wavelengths have different responses from the skin.
The most popular of these treatments is Hair Removal, with most clinics guaranteeing an 80%-90% hair reduction after just 8-12 sessions – if using high-performance equipment!
Most people get fed up of having to deal with unwanted hair on a daily or monthly basis and therefore more and more people are looking for quick, easy and comfortable treatments that are effective and give lasting results.
How Does IPL Hair Removal Work?
IPL produces a broadband spectrum of white light, producing a mixture of many different colours. These colours can be controlled using filters. IPL is, therefore, more versatile and with Medical Grade IPL you can perform a wide range of treatments, achieving fantastic results which are very comparable to a high specification Laser. intense Pulsed Light, releases light in one or more short bursts. This is beneficial for treatments of hair removal, vessels and certain pigment because the technology selectively heats and destroys these chromophores to provide a flawless, airbrushed appearance.
Medical Grade IPL technology is perfect for non-medics because the safety profile is extremely high. Our data shows that there is less than 1% instance of adverse reactions, and there is no risk of causing infection. However, the results that can be achieved are comparable to much more aggressive and higher risk treatments, which is great for salons and clinics.
Who Can Be Treated With IPL?
Most people are suitable for hair removal treatments and best results are often achieved with clients who have fair skin and dark hair, as dark hair has higher concertation of melanin and therefore is more easily treated as it absorbs light better. Treatments can take as little as 10 minutes to an hour depending on the size of the treatment area and typically 6 or more treatments are required for optimum results. Treatment is suitable for both the face and body, is quick and results can be seen after just a few sessions.
How Many IPL Treatments Will I Need?
The number of treatments will always vary depending on the client and their skin type, hair type etc. Fair hair contains less melanin and is a little harder to treat so we would always recommend a consultation before any sessions start to assess what kind of results the client can expect and it will also give practitioners the opportunity to see if the client will be happy with results.
Where Can I Recieve IPL Treatments?
At Lynton, we manufacture platfroms that offer a safe, long-term solution to unwanted, excess hair for both men and women.We have hundreds of clinics around the UK which can be found on our Clinic Finder below:
Search for a Lynton Clinic Here 
Find Out More
For more information on IPL hair removal systems, please visit our EXCELIGHT and LUMINA product pages, contact us on 01477 536 977 or email info@lynton.co.uk.