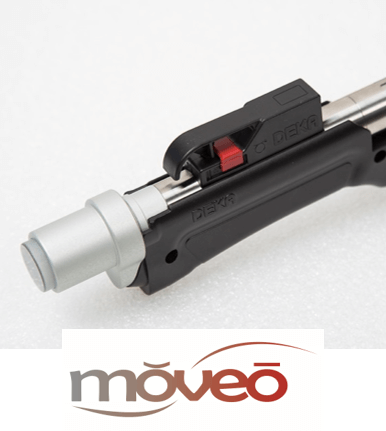 Lynton in partnership with DEKA introduces to the Motus AY a new Moveo PL handpiece, which extends the advantages of Moveo technology to the treatment of benign pigmented lesions. This multi-platform Alexandrite and Nd:YAG laser system allows you to treat a myriad of indications, with an optimal wavelength for any patient in pain-free mode. 
What is Moveo Technology?
For the first time, practitioners can now treat every client, regardless of skin type, using a specialist Alexandrite 755nm 'Moveo Pain-Free' laser technology.
Moveo is a unique laser technology developed by DEKA. This technology is designed based on 4 fundamental concepts: effectiveness, speed, safety and simplicity.
Traditionally Alexandrite 755nm is delivered in a shot shot-by-shot method. This universal method of laser delivery sees the Alexandrite lose a vast amount of energy during treatments, sometimes as high as 32%. This traditional procedure can also be slow and sometimes, very uncomfortable. Moveo mode allows the laser to work at 100% efficiency while in contact with the area, therefore avoiding wasted energy.
Treat Pigmented Lesions with Moveo Technology 
When compared to the traditional "single spot" technique, the new 7 mm handpiece for the treatment of pigmented lesions guarantees excellent efficacy without causing discolouration or hypopigmentation.
While treating clients using Moveo technology, plume protection mode is activated. This reduces risks associated with COVID-19 transmission, resulting in safer laser treatments.
Get in touch to find out more or visit the Motus AY product page.