This blog is copyrighted to Lynton Approved Clinic Buff and Bare. 
What Is Focus Dual Radiofrequency Microneedling?
Radiofrequency (RF) Microneedling is a revolutionary new procedure that is taking the anti-ageing world by storm. The treatment offers non-surgical skin tightening and rejuvenation with virtually no down time. The team at Buff and Bare are honoured to welcome the Focus Dual RF Microneedling and HIFU device to their practice.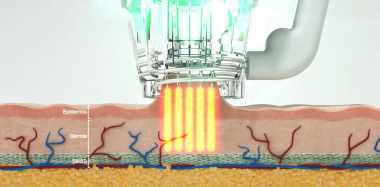 How Does Focus Dual RF Microneedling Work?
RF Microneedling uses ultra-fine, sterilised needles to deliver heat directly to specific layers of the skin. By causing micro-injuries to the skin, the body's natural healing response is triggered, increasing the production of collagen-rich connective tissue.
The 'thermal trauma' caused by Radiofrequency also stimulates your body's natural production of collagen, which slows down as we grow older.
The Focus Dual device contains different needle depths and intensity settings, allowing your therapist to tailor treatments to your specific concerns and needs.
Results can be seen immediately and the skin continues to improve over a period of 3-6 months.
Treatments are minimally invasive with clients reporting low levels of discomfort.
The target area may feel warm and appear slightly red after treatment but this quickly subsides.
With this technology, tighter, more lifted skin is achieved, making the Focus Dual device revolutionary in its anti-ageing capabilities.
What Can Focus Dual RF Microneedling Treat?
A course of treatments (generally 3-6) firms the skin on both the face and body. Moreover, the Focus Dual system:
Reduces the appearance of fine lines and wrinkles
Treats crepey skin
Reduces pore size
Helps to diminish the appearance of acne scarring and stretch marks.
Unlike some laser procedures, the Focus Dual can be used on all skin colours so treatments can continue all year round.
More Information
Get in touch today to speak to arrange a demonstration or to speak to a specialist and find out more.