Extensive scientific evidence concludes that 80-90% of adult women suffer from cellulite in their lifetime. With studies suggesting that over 80% of sufferers see the cosmetic condition as affecting their quality-of-life, it's not surprising that customers are seeking treatment for cellulite, raising the market demand for an effective cellulite treatment.
Scientists have worked for years to try to find effective and long-lasting treatments for cellulite with little success. There are many methods and products that claim to treat or reduce the appearance of cellulite from topical creams, oils, body scrubs and massagers. And of course, invasive surgery.
What is Cellulite? 
Cellulite is a term for the formation of dimples and bumps that are seen on the skin
Cellulite is often coined orange-peel skin, due to its texture and appearance.
The dimples result from fibrotic bands called septae, which cause the fat to be divided into tiny pockets. As these begin to bulge through the fascial connections in the skin, this creates the formation of dimples and bumps.
Numerous treatments are available, but the effect is mostly temporary.
A diet low in fat, carbs and salt, smoking cessation, and an active lifestyle may help reduce the appearance of cellulite by contributing to a healthier lifestyle.
Unusually for such a common condition, research into cellulite has been weak up until the early 2000s. While there are now hundreds of studies being carried out into the condition, they often have opposing findings, leading to a great debate in the scientific community. What's more, new contributing factors are being found every day
What Causes Cellulite?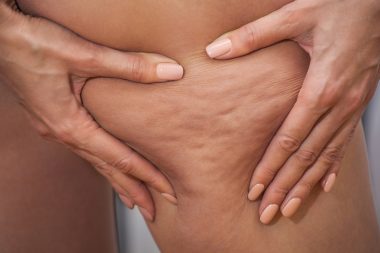 Understanding what cellulite is, how it is formed, and the dominant causes are essential for professionals to be able to effectively treat and resolve the problem areas and make a difference for every client.
There are two main causes of cellulite which cause the orange peel effect most women find so distressing. As you go about your day-to-day life, the skin moves and breathes, and so do the connective tissues.
The first cause of cellulite is linked to the connective tissue between the skin and fat compressing. The bodies fascial connections, called septae, are made of elastin and collagen, these connective tissues work a bit like columns, holding up the 'ceiling' that is your skin. Cellulite occurs more often in women than in men, as women's skin collagen is arranged in parallel rows, like pillars. This pattern lends itself to the compartmentalization of fat, which makes cellulite visible. Men's collagen is arranged in an X-pattern. This creates only very small compartments and doesn't allow for dimpling of the skin.
The second major cause of the orange peel effect of cellulite is when fat cells push against the skin. Over time, your body naturally produces less and less collagen and elastin, and as woman age, the female body produces less oestrogen and tissue blood supply is decreased, this reduces the amount of collagen in the connective tissue fibres. When connective tissue fibres weaken, the bulging worsens increasing the appearance of cellulite on the skin's surface. This makes the orange peel appearance even more visible, as some of the skin is now being pushed out, while other sections are being pulled in. It should be noted that cellulite is different from generalised obesity because, with obesity, adipocytes undergo hypertrophy and hyperplasia; cellulite is characterized by large, metabolically stable adipocytes that are limited to lower body areas (e.g., pelvis, thighs, and abdomen).
The Stages of Cellulite
Just as the process of ageing is a natural progression, so is the development of cellulite. There are multiple stages or phases of cellulite with a range of causes and symptoms:
Stage 1: is the kind of cellulite that you cannot see when standing up, but when you pinch the skin, it appears as wrinkles, not dimples.
Stage 2: is similar except that, when you pinch the skin, you see dimpling instead of wrinkles.
Stage 3: means dimples can be noticed on the buttocks, belly or thighs when standing, but not when you stretch out the skin and body.
Stage 4: means dimples are noticeable whether you're stretching out, and in some cases, you may experience painful cellulite.
Cellulite must be routinely treated and maintained to effectively manage and powerfully resist the rate of formation.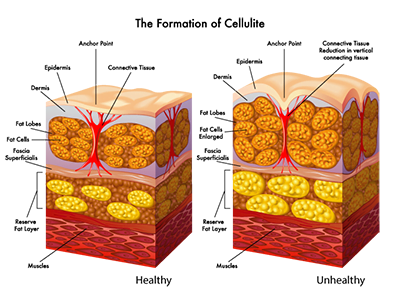 Treating Cellulite
The factors described above contribute to most of the aesthetic concerns that come with cellulite. If a solution could both fight the fat that pushes skin out and renew the fibrous bands that pull the skin in, then cellulite could be very effectively managed.
There are so many different options out there for cellulite treatment – from creams that claim to attack fibrous bands to surgical options, that come with risks, downtime, pain, and of course, that hefty price tag.
One option to tackle cellulite available in clinics is Radiofrequency. This technology works by heating the skin and breaking fibrous tissue, while ultrasound breaks up the fat cells. Combining these treatments provides clinics with a good solution to cellulite reduction however, the aesthetic industry alongside patients continue their search for a purpose-built, dedicated treatment solution.
Onda Coolwaves
There is, however, a new solution. From the inventors of the SmartLipo that changed the laser body contouring industry, comes Onda (Italian for 'wave'). 25 years of expertise and research has resulted in a targeted Coolwave™ system that delivers energy like no other system can. The new device made by Deka in Italy harnesses smart microwave technology for body contouring applications. This non-invasive treatment regenerates reduces and remodels by targeting cellulite, localised fat pockets and skin laxity. Until now many devices have promised lots yet, delivered very little.
The Onda is revolutionising the treatment of cellulite, results are impressive and long-lasting, be one of the first practitioners to experience the Coolwaves™ revolution.
This game-changer of a treatment utilises Coolwaves ™, there is no other device that utilises microwave technology (frequency range: 1-300GHz). The Onda handpieces generate microwaves at 2.45GHz, a frequency that is preferentially absorbed by adipose cells. Microwaves are absorbed by molecules in the fat, which causes them to oscillate and heat up, all while keeping your patient's skin cool and comfortable. The epidermis and the dermis of the skin contain a high percentage of water but little fat, so the Coolwaves bypass the top layers without depositing excessive heat (about 20% of the thermal effect from the microwaves).
The majority of the Coolwaves™ energy affects the deeper layers of fat, which is heated far more rapidly than the skin (about 80% of the thermal effect). Therefore, when the Coolwaves™ penetrate the body, particularly the torso, abdomen and thighs. It causes apoptosis of adipose cells helping to eliminate them, while also stimulating cellular metabolic processes and collagen production.
What makes the Onda unique when compared to traditional radio frequency (RF) systems (frequency range 0.1 – 40 MHz) and fat freezing devices, is they deposit energy mainly on the skin surface. This means they fail to penetrate deep into the body to treat fat, but they also risk discomfort, excessive heating of the skin and damage to the skin's surface. This is not the case with the Onda, being equipped with Smart Handpieces, its action is deep and targeted, without damaging nearby skin.
Patients receive three effects in one with immediate visible and long-lasting results. 
REGENERATES: Cellulite: The shallow handpiece effectively targets the connective tissue surrounding the adipose globules in the more advanced stages of cellulite, which is visible as the typical 'orange peel' effect.
REDUCES: Localised fat deposits: The deep handpiece enables Coolwaves™ to penetrate deeply, dissolving subcutaneous adipose cell membranes. The lysate is subsequently eliminated by stimulation of physiological metabolic processes (macrophage lipolysis). The cooling system integrated into the handpieces ensures that the skin remains cool for maximum patient comfort.
REMODELS: Skin tightening: The microwaves induce immediate shrinkage of the collagen fibres in the dermis and boost the production of new collagen. This tightens and smooths the tissue.
For the first time, users are able to reach temperatures that can liquefy fat and destroy fat cells without damaging the skin and surrounding tissue, meaning it's completely safe and controlled. When the heat slowly starts leaving the fat cells, it heats the skin – resulting in 'built-in' skin tightening. Onda's Coolwaves™ also heat and melt hardened connective septa, allowing the skin to produce new, more elastic collagen. By destroying fat, Onda effectively removes the 'push' element of cellulite. By loosening connective septa, it removes the 'pull'.
The result is a system that treats cellulite faster and more effectively than any other non-surgical option on the market. And with the additional in-demand revenue streams of targeted fat reduction and skin tightening, Onda isn't just shaking up the market, it's giving it a whole new level of body confidence.
Treatment Findings
In a recent study in the Journal of Plastic and Pathology Dermatology patients with cellulite on the buttocks and posterior thighs were treated with a protocol that consisted of four sessions of Onda Coolwaves™ at a 30-day interval. The Results:
100% of participants saw an improvement on their Cellulite Severity Score, with 85% reporting significant 
The number and depth of skin depressions was significantly reduced in 100% of participants 
The average score on the Cellulite Severity Index dropped from 9.2 (moderate to severe cellulite) before treatment to 4.2 (mild cellulite) after a course of four Onda treatments  
100% of participants also saw an improvement in skin laxity following treatment.
Testimonial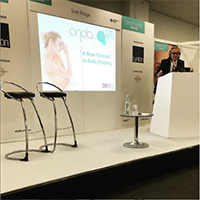 Dr Khan, Co-Founder of the Harley Street Skin Clinic has been impressed with the Onda. Dr Khan in 2004 became a full-time cosmetic Doctor and that same year with his wife Lesley they opened the doors of the Harley Street Skin Clinic. Dr Khan has dedicated more than a decade, combining technical skill and aesthetic vision to both reverse the signs of ageing and preserve existing youth. He has achieved this through pioneering and applying specialised non-invasive treatments designed specifically to keep the surgeon's knife at bay. The clinic has a wealth of experience, seeing between 3000-4000 patients a year. Dr Khan has seen a great increase in the requests for non-surgical body sculpting over the past few years.
"We first heard about the Onda at a medical conference. Since starting to use the Onda, we have carried out about 1000 treatments which has meant there is a lot of data to look at. Patients are happy with the outcomes. We have a lot of celebrity patients due to them not wanting long-periods of downtime with busy schedules. They are very happy with the treatment".
"I like all three of the functions that the Onda tends to offer, I like the fact that it is an effective cellulite reduction technology and there is no other technology that does the same non-surgically.  We offer treatment to men and women and are seeing good results with both. Clearly, women have cellulite more prevalently than men, however, with the ageing process of men there is estrogenization and we are seeing skin similar to cellulite. Men are benefiting from this treatment as well.  Patient safety is a priority, and what we find with the Onda is that we can be rest assured that it is one of the safest treatments we can offer our patients, especially when it is related to tissue damage, to burns and to adverse outcomes".
Find Out More
For more information please contact us on 01477 536 977 or email info@lynton.co.uk.