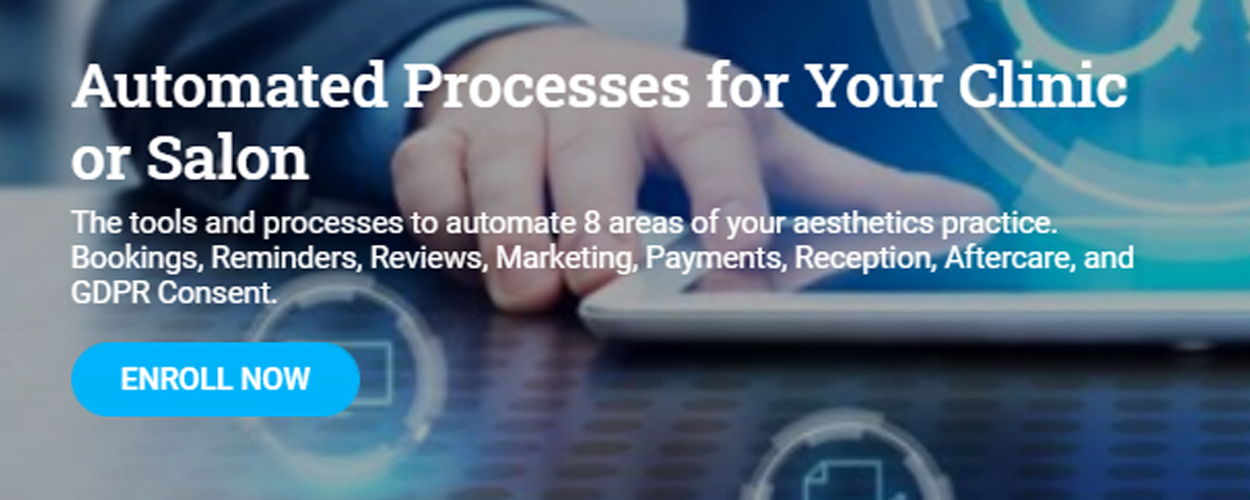 When it comes to business automation, although many different processes can be automated, there are some typical areas of an aesthetics practice that obviously crying out for automation. These include bookings, reminders, reviews, payments, reception, aftercare, and GDPR/consent. So, let's talk about the benefits of automating these areas:
Bookings
With your online bookings process fully automated, you will save yourself a lot of time and a lot of money – all whilst delivering the ultimate, efficient and professional booking experience for your clients.
Reminders
By automating your reminders process, both you and your client will receive timely notifications with regards to consultations, bookings, treatments, aftercare, and more – this eradicates the overcrowded to-do lists of yourself, your staff, and your patients, and also massively decreases the all-too-familiar "no-show" rate (which can be decreased even further by implementing a non-refundable deposit through your automated booking and payments system!)
Reviews
With your review process completely automated, recurring patients can share their fantastic experiences in your clinic and potential clients can easily access all of your glowing testimonials.
Payments
By automating your payments system, payment details can be submitted effortlessly and money can be rapidly, securely sent and received – all whilst reducing your operational costs.
Reception
With your reception process fully automated, a tailored visitor management system will afford internal flexibility and optimum efficiency.
Aftercare
By automating your aftercare process, you can provide the very best care, personally, effectively, and efficiently – benefiting your valued patients and your aesthetics practice.
GDPR/Consent
With your consent process completely automated, you can ensure GDPR compliance – knowing that your practice is compliant with the outlined business processes and technical safeguards.
All of this can be tied together into designed and automated workflows and give you back hundreds of admin and service hours, and thousands of pounds per year in savings and returned profits, with more spare time to spend with loved ones, pursuing hobbies, or seeing more patients!
Now I can hear you asking: How do I go about automating these processes in my aesthetics practice?
Well, it really couldn't be easier. 
AUTOM8
Get in touch with Look Touch & Feel and AE Digital to learn more about fully automating your aesthetics business and discover our new online programme AUTOM8, designed and created to help you achieve just that. Or, alternatively, we can do it all for you!