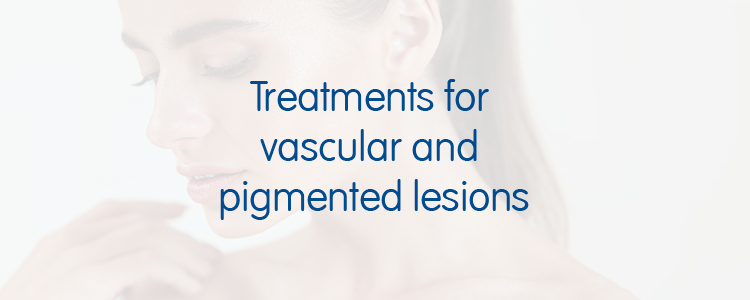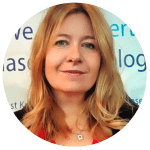 In this blog, Dr Sam Hills discusses Café-au-lait Macules, Campbell de Morgan spots and other Chromophores. Dr Sam Hills is the Clinical Director at Lynton Lasers, a UK manufacturer of laser and IPL systems. She is the creator and main lecturer of the industry-leading Lynton University of Manchester Skin Laser and Core of Knowledge courses.
What Is A Chromophore?
There are a large number of coloured lesions that people often want to cover or remove. Luckily, lasers and IPLs are excellent tools for treating these types of lesions.
Lasers work by selectively targeting certain chromophores; a chromophore being simply something that absorbs light. There are three 3 main chromophores in the skin; melanin, haemoglobin and water, which means that lesions such as Campbell de Morgan spots, Port Wine Stains and visible thread veins can be targeted by lasers or light systems that target haemoglobin, whereas Café-au-lait Macules, lentigines and other pigmented lesions can be treated with different wavelengths of light which target melanin. If the wavelength and pulse duration of light is chosen correctly, then these lesions can be removed or faded effectively, whilst ensuring that the surrounding tissue is unaffected.
Café-au-lait Macules
Café-au-lait macules are one of the most common types of birthmark, affecting 13% of Caucasian skins and 27% of people with darker skins. They are flat, epidermal lesions that vary in colour from very light brown to dark brown. They are not always present at birth but are usually apparent by the age of 2. It's worth noting that although having one or two lesions is very common, multiple lesions (6 or more) can be indicative of neurofibromatosis and people presenting with multiple lesions should be referred to their GP.
Café-au-lait macules (CALMs) respond very well to Q-Switch lasers, but, in common with many pigmented lesions, they have a high recurrence rate, with as many as 50% recurring in the following years. Daily use of SPF on the area will reduce or slow down the rate of recurrence.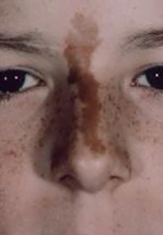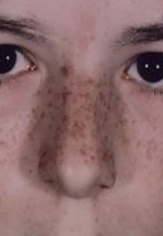 Café-au-lait macule before and after 6 treatments with a Q-Switched Ruby laser.
Campbell de Morgan Lesions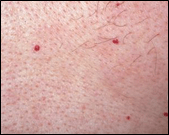 Campbell de Morgan lesions (also known as cherry angiomas) are small, red, raised spots from 0.1mm-1cm in diameter. They most often appear spontaneously on the trunk and tend to increase in number in middle age. They can sometimes be mistaken for spider naevi, but unlike them, they do not blanch when pressure is applied. Their cause is unknown but they respond well to both IPL or laser treatment. After treatment, they immediately turn very dark in colour and are then reabsorbed by the body over the following weeks. 
Click the button below to find out more about vascular and pigmentation removal with laser and light-based technology.