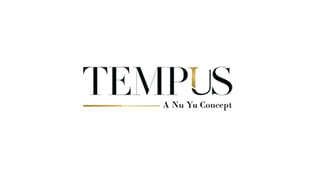 London welcomes a completely new concept in whole-body self-improvement, opening February 2020 in London's prestigious Belgravia. Tempus | A Nu Yu Concept is set to raise the bar in aesthetics and wellbeing as the flagship of the Nu Yu global brand.
The name Tempus, or 'time' from the Latin, acknowledges a very real and immediate consumer need to receive a genuinely holistic approach to self-improvement and the expert time to achieve results, safely. To date, services are often measured by the results, quality of service and the price tag, but Tempus is committed to more; a focus on offering customers time, safe and effective treatment choices, a thorough service and the perfect environment to allow all questions and answers to be openly discussed.
Tempus is the first European opening and flagship, for the already established Nu Yu family of clinics with sites in Qatar, Lebanon and Morocco. This prestigious new flagship clinic will offer an expansive portfolio of treatments and services giving a holistic approach to whole-body improvement, headed up by its co-founders, Global Ambassadors of both Surgical and Non-Surgical disciplines.
The Onda, deemed the 'Best Treatment for your Derrière' in Tatler Cosmetic Surgery Guide 2020 treats cellulite faster and more effectively than any other non-surgical treatment.
The launch of the Onda taking place at Tempus on Thursday 6th of February will accompany journalists from The Telegraph Magazines, Country and Townhouse Magazine, Mintel, Metro and more!
Tempus: www.Tempusbelgravia.com