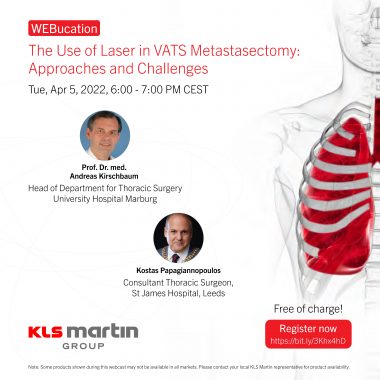 Tue, Apr 5, 2022 5:00 PM – 6:00 PM
We are pleased to welcome as speaker: Prof. Dr. med. Andreas Kirschbaum Head of Department for Thoracic Surgery University Hospital Marburg M.D. CTH Kostas Papagiannopoulos Consultant Thoracic Surgeon St James Hospital, Leeds The main topic of this webinar:
Identifying appropriate candidates
Assessing feasibility of using the laser in VATS
Planning: How to do a VATS case and potential challenges
Case Studies
Questions Participation in the webinar is documented by a certificate.
Participation is free of charge.
Maximum 500 participants
Note: Some products shown during this webcast may not be available in all markets. Please contact your local KLS Martin representative for product availability.