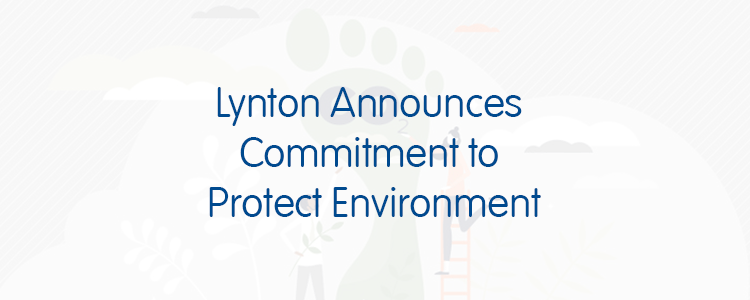 At Lynton, we're doing everything in our power to help the environment, which is why we've launched our new Climate Action Initiative. We've chosen to do this not just to show our dedication to reducing our carbon footprint, but also to demonstrate the level of our commitment.
We are devising a strategy to monitor, reduce and offset travel, energy usage and more. This scheme is our ongoing commitment to reducing our carbon footprint. This is something that businesses across the UK are trying to do but we're hoping to go one step further, we are aiming to be carbon-neutral by the end of 2022.
Understanding The Language Linked To Sustainability
It is incredibly saddening that many people are still unfamiliar with phrases that are commonly used when discussing sustainability, but we're looking to change this. Read on to learn more about our mission.
Carbon footprint is a term that is frequently used throughout the world, it describes the total amount of greenhouse gases (including carbon dioxide and methane) that are generated by our actions. Individuals, households and businesses all have their own. The average UK citizen's is about 10 tonnes of CO2 per year. This is almost double the world average.
Carbon-neutral refers to the balance between emitting and absorbing carbon from the atmosphere. You may have also heard of the term 'net zero', it refers to when all greenhouse gases being emitted are equivalent to the greenhouse gases being removed from the atmosphere. This phrase is typically used when discussing emissions on a global scale, as opposed to the smaller scale we are working on.
Our mission is to focus on our individual responsibility as a company. It is our hope that other businesses in our field will come to view us as an example of how to become more ecologically conscious.
Our Corporate Responsibility To Reducing Our Carbon Footprint
This means we will be looking for new ways in which we can reduce our carbon footprint, whilst continuing to implement the measures we have already started, ensuring our goals come to fruition.
In 2021 Lynton offset all of its CO2 emissions resulting from travel, which was the largest single contributor, alongside our energy usage at 188 tonnes. We achieved this by improving our energy efficiency through the implementation of renewable energy sources while investing in a range of third-party verified offsetting projects, including plans that work to tackle deforestation.
Keep an eye on our blogs as we will continue to update you on our sustainability endeavours.