The latest solution for skin rejuvenation is Radiofrequency Microneedling (RFM) technology, a clinically proven technology that increases collagen production in the skin. This helps to reduce lines and resurface the skin with virtually no downtime. 
With ultra-fine needles and unique vacuum features, the Medical CE Certified Focus Dual RF Microneedling and HIFU machine delivers safe and effective Microneedling treatments with reduced discomfort and downtime compared to other devices.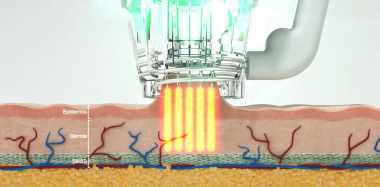 Vacuum Suction Technology for Safe RF Microneedling Treatments
With the application of vacuum suction technology, you can penetrate Radiofrequency energy deep into the dermis to cause a thermal effect. The thermal effect causes an instant contraction to the fibrous septa and dermis which boosts collagen and elastin production, with continuous results seen over the following 3 – 6 months. This fine penetration depth control function through vacuum-based absorption can be customised to fit a variety of skin conditions.
Vacuum suction technology allows you to pull up the treatment area to stabilise the microneedles for safer and more precise treatments – especially useful around the delicate eye area.
Successfully Introduce RF Microneedling to Your Clinic
Give your clients skin back its SNAP with Focus Dual and add the following to your treatment portfolio:
Acne scarring.
Pore reduction.
Improved skin tone.
Stretch marks.
+ more!
Before and After Results
Focus Dual Launch Programme
Introduce this brand-new technology and at the same time gain 6 virtual business coaching sessions, where our Marketing Team will coach you through an entire launch process so that you can deliver a gold standard product launch in 2021!
"Using the step-by-step marketing strategy from Lynton we have gathered so much interest from clients for our new Focus Dual! We have already confirmed bookings and we haven't even launched the device yet! The support has been so unique, we have never purchased a system where everything we need has been laid out in front of us like this. We've used the supplied resources to easily complete our webpages, write blogs, and make social media posts about the device, the whole process is just so easy." – Kay Brown, Fiji Skin Clinic.
More Information
Get in touch to find out more or book a demonstration.