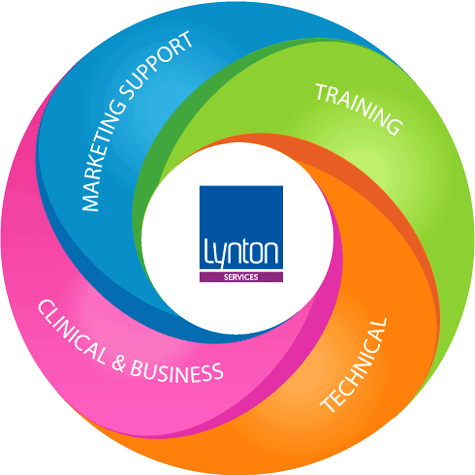 Lynton's marketing, clinical and technical after-sales network, which includes a range of support tools, is the largest of its kind in the UK. As a result of this, we're able to ensure our clients are capable of accessing the help and advice they need, as and when they need it.
However, our marketing and clinical support tools are only available to Lynton customers. Without purchasing one of our products, you'll be unable to benefit from our dedicated team's expertise. Keep reading to find out more about our services.
How Our Marketing Support Tools Can Help You
When you start your journey with us, you will be assigned a dedicated account manager who will be responsible for overseeing the needs of your business. You will be able to contact this person directly if you have any questions regarding product launches or any other general business support queries. This person will check in with you every month to ensure that you're getting the most out of your Lynton product, or products.
To cover all areas of your business, we will also provide you with offline and online content managers. These members of our team will be able to assist you with your social media platforms, as well as your physical place of business. As well as this, our Sales and Marketing Director, Hayley Jones, will be on hand to book you in for a strategy session if you feel as though you need some extra guidance.
In addition, we also provide all Lynton customers with expert clinical advice and support tools.
Clinical Expertise From Lynton
Our clinical team includes aestheticians, clinicians, clinical trainers and service engineers. These individuals provide our customers with a wealth of knowledge, which helps them to take their businesses to the very next level. One handy feature available to all Lynton customers is our clinical hotline, which is accessible 24/7. Many of our customers feel as though it is one of our most valuable support tools. You can get in touch with our experts by telephone or email, but however you choose to get in touch with us, there will always be someone to help with whatever concern you might have.
Alongside this feature, we also provide training in the use of new devices you have purchased from the comfort of your very own clinic. Our trainers will teach you everything you need to know about your device, allowing you to gain a more thorough understanding of how you can use it to maximise your ROI. We also offer virtual classroom clinical updates for our clients. This means you don't even have to leave your home or office to learn more about the latest devices and developments in the world of aesthetics.
Technical Support At Your Fingertips
Even products such as ours that are created to extremely precise specifications can, on occasion, fail to perform as they should. With this in mind, we've made sure that we have the means to help our customers at all times. With a 48-hour response time, our field engineers ensure that there are minimal disruptions to your business. And our repair or replace option enables you to opt for another device you can continue to use whilst yours is being fixed.
Our engineers aren't just here to help you when you're in a pinch either, they also schedule regular maintenance visits to ensure your machinery is working properly. This allows them to spot any potential issues. They are one of the many reasons our customers continue to choose Lynton.
Why You Should Choose Lynton
Our extensive network can help you and your business get the most out of your Lynton products. Together, everyone involved in our vast support network contributes to the process of building and growing your business. Remember, if you're not one of our customers, you won't be able to gain access to our exclusive support tools.
Email us at info@lynton.co.uk or call us on 01477 536 977 to find out more about which of our products is right for you.
You can stay connected with our Lynton communities by following us on Facebook and Instagram today.