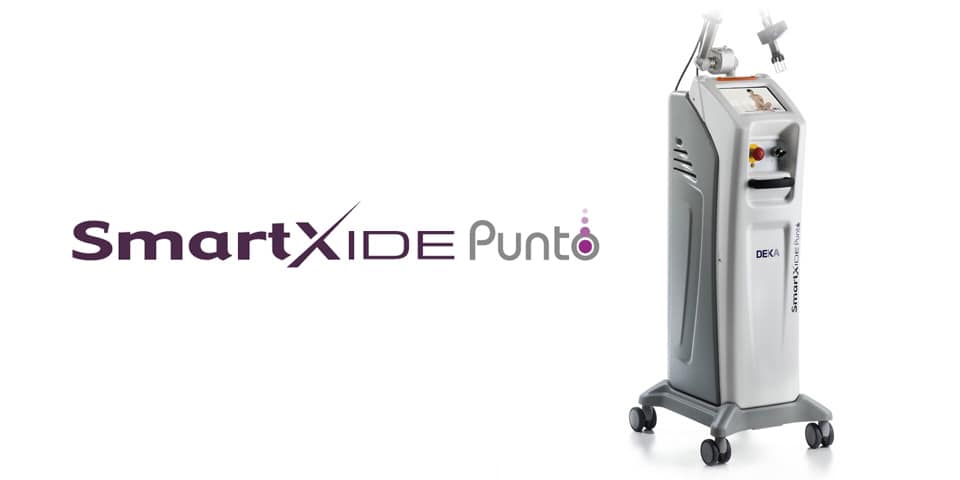 CO2 laser resurfacing has long been the gold standard for skin rejuvenation, with many professionals relying upon it as their method of choice. It is an incredibly powerful tool in any practitioner's arsenal and this technology has only improved over time.
Our partners, DEKA, are known for their innovations over the last thirty years and CO2 technology has really proven to be their area of expertise. Their devices are undoubtedly the best when it comes to CO2 laser resurfacing technology – are you familiar with them?
DEKA SmartXide: The Ultimate CO2 Laser Resurfacing Machine
Unlike the other CO2 systems on the market, DEKA's SmartXide is truly revolutionary. Historically, CO2 laser resurfacing treatments have been considered the best when it comes to improving skin texture and the visible signs of ageing but, unfortunately, they were also synonymous with long periods of downtime for patients. Luckily, DEKA has made that a thing of the past!
Their team of experts have created H-pulse technology, which is exclusive to The SmartXide Series. It leverages short pulse durations and deeper ablation to provide patients with truly impressive results. What's even more impressive is that it does this whilst ensuring very little tissue damage to the surrounding areas. This is due, in part, to the spray mode function. Another innovation by DEKA, it is used to minimise pattern overlap, thus delivering safe and comfortable treatments.
Practitioners across the globe are fans of DEKA's devices, especially  Ali Ghanem, one of our ambassadors. Mr Ghanem loves nothing more than performing CO2 laser resurfacing treatments and delicate surgical procedures such as blepharoplasty on his patients with the SmartXide Punto.
Do You Want To Find Out More About The SmartXide?
"SmartXide is a device that allows medical practitioners to perform both invasive and non-invasive dermatological procedures alongside surgical applications. I am loving it and my patients are too. Patient satisfaction is at an all-time high for CO2 procedures due to the uncompromised versatility I can offer with the SmartXide." – Mr Ali Ghanem
We will be at ACE on Friday 11th March and Mr Ali Ghanem will be joining us! He will be discussing how exactly he uses the SmartXide series in his clinic and how much he values the creation of CoolPeel™.
Alongside this, Mr Ghanem will explain how you can use this new technology to reach largely untouched patient demographics, such as young millennials (those in their mid to late twenties) who have typically just started to deal with the visible signs of ageing.
In this session, you will find out about how you can use this incomparably flexible CO2 laser resurfacing device to help your practice grow and thrive.
Get In Touch
To find out more about the SmartXide series by our partners, DEKA, email us at info@lynton.co.uk or call us on 01477 536 977.
Don't forget to stay connected and keep up with all the latest Lynton news. Follow us on Facebook and Instagram today.
Explore our website to read more about our range of skin resurfacing machines and CO2 Laser technology in aesthetics.