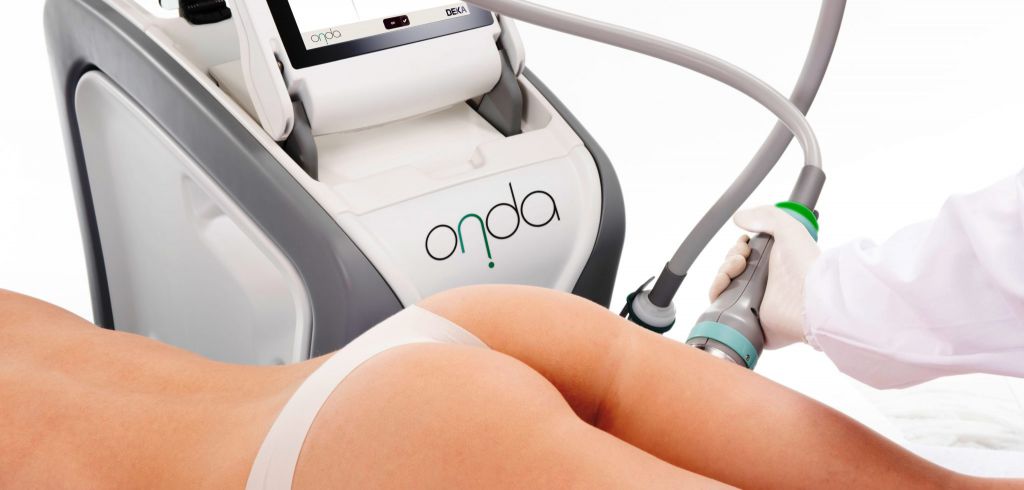 ONDA is the world's first and only device to use our partner, DEKA's, exclusive Coolwaves® technology. This new innovation has been used to create a truly revolutionary non-surgical body contouring device. It was even crowned the "Number 1 Treatment for A Dimple Free Derriere" in TATLER's Cosmetic Surgery Guide. ONDA allows practitioners to achieve amazing results when targeting cellulite with one safe and comfortable treatment for their patients with no downtime.
To find out more about everything ONDA is capable of, read on and prepare to add ONDA to your practice.
What Is Cellulite?
Cellulite is a common and harmless skin concern, which often affects women more than it does men. Although men can get cellulite, it's more visible in women due to how fat is distributed on their bodies. Cellulite manifests as dimples that often appear on the thighs, abdomen, hips, breasts and buttocks. Although this is nothing to worry about, it can have a detrimental effect on a person's self-confidence. 
Relatively little is known about the exact cause of cellulite, but the fibrous connections that bond the skin to the muscle underneath it play a part. Between them sits a layer of fat. As these fat cells accumulate, they press against the skin and the fibrous tissue pulls on them. This results in the dimples we recognise as cellulite. 
Hormones also impact the appearance of cellulite, with menopausal women often developing cellulite as a result of reduced oestrogen levels. This, paired with genetics, skin texture and body type, also affects a person's likelihood of developing cellulite. Muscle tone and weight are further contributing factors, but it is possible for physically fit individuals, for example, those with evidently toned muscles, to be affected too.
In order to effectively treat cellulite, these fat cells need to be targeted and eliminated. That's where ONDA comes in.
How Has ONDA Gained A Reputation As The #1 Non-Surgical Body Contouring Device?
ONDA's well-deserved reputation as an extraordinary non-surgical body contouring machine is largely due to Coolwaves®, DEKA's exclusive technology. Coolwaves® penetrate deep into the skin to target and destroy the membranes of subcutaneous fat cells that are responsible for cellulite. These membranes are then removed through the body's natural detoxification processes and the dreaded 'orange peel' effect soon becomes a thing of the past!
As both the dermis and epidermis contain a high percentage of water but little fat, Coolwaves® are able to bypass the top layers of the skin without depositing excessive heat. This allows Coolwaves® to penetrate deeper layers of fat, with these layers of skin receiving the majority of the thermal effect from the microwaves. Therefore, when Coolwaves® enter the body, particularly the torso, abdomen and thighs, this leads to the apoptosis of adipose cells because such a considerable amount of heat is used to target them.
Over recent years, ONDA has solidified its name as a pioneering device. Coolwaves®' controlled microwaves allow clients to benefit from three features in one: fat reduction, skin tightening and cellulite reduction. Whilst getting rid of the fat cells that contribute to cellulite, the collagen fibres in the skin are also encouraged to contract, stimulating the production of new collagen to result in tighter, more toned skin.
What Can Patients Expect To See From ONDA?
Thanks to ONDA, patients receive three outcomes in one, with immediate effects. This results in visible, long-lasting changes to their cellulite.
Rengeration
The Shallow handpiece effectively targets cellulite by identifying the connective tissue surrounding the adipose globules of fat in the more advanced stages of cellulite. These cells manifest as the visible 'orange peel' effect. 
Reduction
The Deep handpiece enables Coolwaves® to penetrate localised fat deposits by dissolving subcutaneous adipose cell membranes. The lysate is subsequently eliminated by the stimulation of the physiological metabolic processes (macrophage lipolysis). The cooling system integrated into each handpiece ensures that the skin remains cool for maximum patient comfort.
Remodelling
Skin tightening is achieved as microwaves induce immediate shrinkage of the collagen fibres in the dermis and boost the production of new collagen. This tightens and smooths the skin tissue.
A study conducted by the Journal of Plastic and Pathology Dermatology found that patients with cellulite on the buttocks and posterior thighs who were treated for four sessions with ONDA at 30-day intervals showed brilliant results. 
100% of participants saw an improvement in their Cellulite Severity Score, with 85% reporting significant changes. This means the number and depth of their skin depressions were significantly reduced across the board. The average score on the Cellulite Severity Score dropped from 9.2 (moderate to severe cellulite) before treatment to 4.2 (mild cellulite) after a course of four ONDA treatments. 100% of participants also saw an improvement in skin laxity following treatment.
Because of Coolwaves®, practitioners can provide their patients with a safer, more effective method of non-invasive body contouring and fat removal. This system is easy to master, and combined with the extraordinary results it promises, means you can achieve an exceptional return on your investment. Have your patients tried it yet?
Get In Touch
To unlock ONDA's groundbreaking potential for yourself, email us at info@lynton.co.uk or call us on 01477 536 977. Our team will be able to tell you everything you need to know about getting started on your ONDA journey.
Don't forget to stay connected and keep up with all the latest Lynton news. Follow us on Facebook and Instagram today.