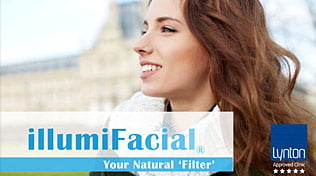 The launch of New Skincare & Lynton IPL Treatment: IllumiFacial®. 
Our new IllumiFacial® is the 'next generation' of the highly successful 'Photofacial' skin treatment, using a new and unique combination of specialist skincare suitable for use with all-powerful, medical-grade Lynton IPL devices. 
You can achieve this facial rejuvenation treatment in 4 quick and simple steps, which dramatically improve skin tone and appearance helping your skin feel and look its best. Results include a fresh, soft complexion leaving a healthy glow, perfect for anyone whose skin exhibits congestion, discolouration and visible signs of ageing.