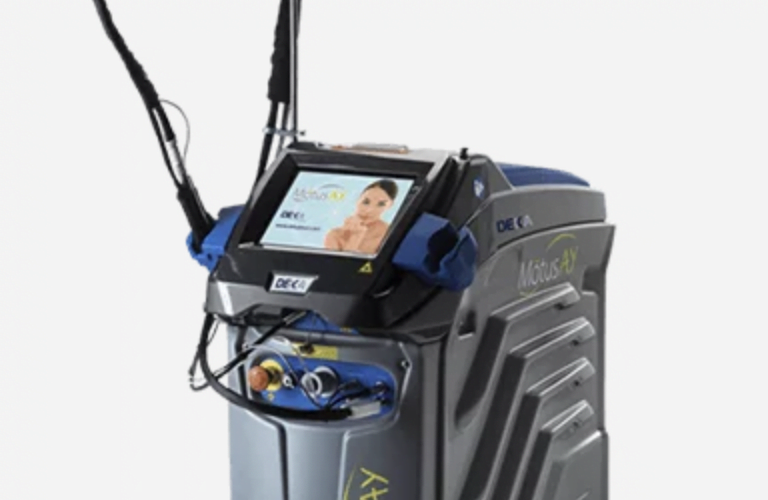 MOVEO technology has been developed by our partners, DEKA, and has revolutionised the aesthetic hair removal industry. Thanks to DEKA's expertise, practitioners and patients alike can experience unrivalled results when it comes to hair removal.
If you're unfamiliar with MOVEO technology, we're here to share our invaluable knowledge about one of the best, and most exciting, innovations we've seen in recent years.
MOVEO Technology Explained
MOVEO technology is DEKA's very own laser innovation. It was created with the following four key principles in mind: safety, speed, simplicity and effectiveness. MOVEO technology utilises a 755nm Alexandrite laser. This creates truly unparalleled results previously unseen on the hair removal market. It is the only laser that allows practitioners to treat all skin types with the Alexandrite wavelength, which is the best wavelength for hair removal.
Primarily, the Alexandrite wavelength is used for hair removal. The very best results are obtained by utilising the ideal wavelength for hair removal treatments (Alexandrite 755nm) in a low fluence-multipass delivery process. When combined with integrated contact cooling, MOVEO technology delivers both comfort and safety to patients. MOVEO is the only FDA-approved technology to treat all skin types with the Alexandrite wavelength.The Alexandrite laser uses a high repetition rate with a handpiece that stays in close contact with the skin. This drastically reduces the amount of energy that's reflected and lost, delivering a lower target temperature for maximum clinical effectiveness and long-term results.
Let's not forget the Nd:YAG laser! Reduced absorption rates mean less heating of the skin in comparison to other systems. Because of this, the risk of epidermal damage to the patient is much lower without compromising on results. In fact, due to the MOVEO handpiece, less energy is reflected between the skin and surrounding air during treatment. This makes it entirely different to any other laser technology on the market.
Introducing MOVEO Technology To Your Practice
With a MOVEO handpiece, practitioners can use circular or linear movements to eliminate unwanted hair quickly, whilst ensuring a virtually pain-free experience for their patients. The industry has experienced a surge in the number of 'pain-free' treatments requested by consumers. Typically, such treatments have involved the use of a diode laser with a gradual heating process, which works much more slowly than a high-powered laser. This is no longer the case, with MOVEO technology.
Now all patients on the Fitzpatrick scale, including those with very fine hair and skin types 4-6, can receive treatment with MOVEO technology. Historically, patients with skin types 5 and 6 may have found it difficult to receive hair removal treatment but our goal is to make that a thing of the past. Traditionally, Nd:YAG laser devices were used to treat those with darker skin tones but MOVEO's dual-wavelength system with the addition of Alexandrite technology allows practitioners to treat these patients with our MOVEO handpiece.
Thanks to MOVEO technology, you can broaden the range of patients you're able to treat.
You can introduce DEKA's MOVEO technology to your business by investing in a pioneering piece of equipment such as AGAIN or MOTUS AY.
The Stars Of MOVEO Technology: MOTUS AY And AGAIN
The Motus AY is the world's first FDA-approved Alexandrite and Nd:YAG Laser for virtually pain-free hair removal treatments on all skin types, made possible with the addition of MOVEO technology. With traditional Alexandrite laser devices, it was only possible for practitioners to treat those with skin types 1-3, which makes the Motus AY even more revolutionary. It even features a plume protection mode, which, when activated, reduces the risks associated with COVID-19 transmission, making it an even safer treatment for your patients.
The MOVEO handpiece and contact cooled sapphire chill tip are available for both the Alexandrite 755nm and Nd:YAG 1064nm laser applications of MOTUS AY. During treatments, the sapphire tip remains in continuous contact with the skin, reducing the energy that is typically reflected and lost by the skin. This results in clinically effective, long-term hair removal results.
But it doesn't just excel at hair removal. MOTUS AY can also be used to treat vascular and benign pigmented lesions, as well as performing skin rejuvenation treatments with incredible results.
AGAIN is also a dual-wavelength laser with many useful applications. With a 30mm spot size, AGAIN is the most powerful device of its kind available on the market. To find out more about how DEKA did it AGAIN, read our latest blog on this impressive machine here.
Hair removal has come a long way in recent years and DEKA has been truly leading the way.
Get In Touch
If you're yet to experience the power of MOVEO technology for yourself, get in touch with us today. To find out more about MOVEO technology and the machines that utilise it, email us at info@lynton.co.uk or call us on 01477 536 977.
Don't forget to stay connected and keep up with all the latest Lynton news. Follow us on Facebook and Instagram today.