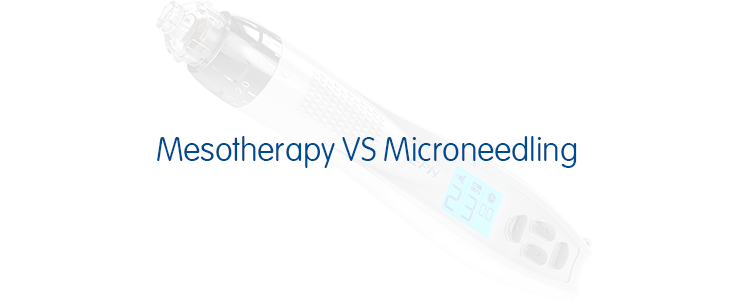 As lockdown 2021 is coming to an end and we are all planning the reopening of our clinics you may be looking to introduce a new and effective treatment to your portfolio. Let's look into Mesotherapy VS Microneedling and which option would offer amazing results for clients but all will be highly profitable for you the clinic owner!
Non-invasive needling treatments have been around for decades with lots of clinical evidence to back up the efficacy of their results on the skin. The demand for anti-wrinkle injections and dermal fillers grows each year within the aesthetics industry, but 2021 is seeing a new trend when it comes to alternative needle therapies such as Microneedling and Mesotherapy.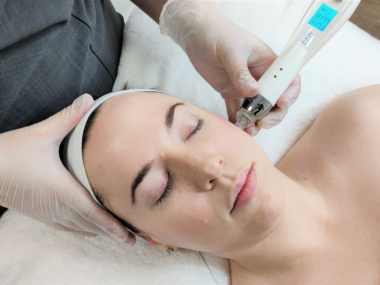 Mesotherapy VS Microneedling are they the same?
Mesotherapy and Microneedling treatments both involve needling techniques, however, there are many significant differences too, such as the needle length used, the depth of penetration in the skin and the speed of delivery during treatment. Let's explore these differences in more detail and how this will affect the treatment itself and the results clients will see.
How does Mesotherapy work?
Needle Mesotherapy was first introduced in the 1950s and by the 1970s it was discovered that this technique could be used for the rejuvenation of collagen and elastin within the skin very effectively. It is a minimally invasive treatment where a single needle is used by the practitioner to inject a cocktail of vitamins, hyaluronic acid and growth factors into the skin, generally to hydrate the skin and increase cell regeneration. With Mesotherapy treatments practitioners can be specific in what products they want to inject into the skin dependant on the skin concern they are targeting.
What is Mesotherapy used for?
In most clinics throughout the UK, Mesofacial treatments are offered to treat a variety of skin conditions including skin laxity, dark circle under the eyes, acne scarring, pigmentation and cellulite. There are a number of clinics that also use Mesotherapy for hair loss, to stimulate hair growth and there is also a no-needle Mesotherapy treatment which uses an ultrasound device to interact with skin cells allowing better absorption of active ingredients within the cell, however, the most popular treatment of 2021 so far has been needle Mesotherapy for the face.
What is Microneedling?
From a one needle technique, we move to the use of several with the treatment of Microneedling. In the early 1990s derma rolling was invented, this was where practitioners would roll miniature needles up and down the face to combat the main signs of ageing in the skin. This technique was also used to improve the appearance of surgical scars and pitted acne scarring. Over the years derma stamping techniques have also been used but the most recent and most effective Microneedling technology is in the form of a skin needling pen.
These devices use a number of ultrafine needles to penetrate the dermis and create a wound which then stimulates the production of new collagen and elastin during a wound healing response in the skin. When topical products are applied to the skin prior to treatment the act of creating tiny micro-holes allows better absorption of the product within the skin cells to maximise treatment results for clients.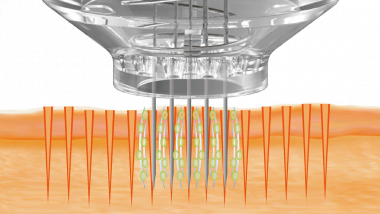 What is Microneedling good for?
Face needling treatments are highly effective for the majority of skin concerns found on the face and neck area. From skin laxity to fine lines around the eye area, you are able to offer a bespoke skincare package for your client which will treat all areas that are a concern. Microneedling has been combined with lots of other new and innovative technologies over recent years including Radiofrequency and Electroporation to maximise client results.
One of the most common questions surrounding these treatments has to be is Microneedling painful? The answer is yes it can be, however, this is very dependent on client sensitivity and the needle depth being used. Some skin concerns will require deeper needle penetration than others to make the treatment effective. Just as with Mesotherapy you can apply a topical anaesthetic for any clients who find the treatment uncomfortable, this allows you to keep your needle penetration deep if needed so that you can still provide clients with the best possible results.
Mesotherapy or Microneedling – which will suit my clinic best?
Whether you introduce the 'skin prick rejuvenation' treatments of Mesotherapy or skin needling with pen devices to your clinic, you are sure to be adding a highly effective treatment to your portfolio. However, there are many additional benefits to offering Microneedling services specifically.
We know that with skin pen devices we have the ability to adjust needle depth which means you are able to offer more precise and controlled treatments to clients. Devices also use a vertical stamping method with ultrafine needles so you are also offering clients a less painful treatment and less downtime compared to other aesthetic procedures for skin rejuvenation.
Treatments are usually quicker with Microneedling than Mesotherapy particularly as speed can be adjusted on your device. Having quicker treatment times is going to result in booking more clients into your diary and therefore increase your return on investment.
If you would like any further information on Microneedling devices please contact us.
---