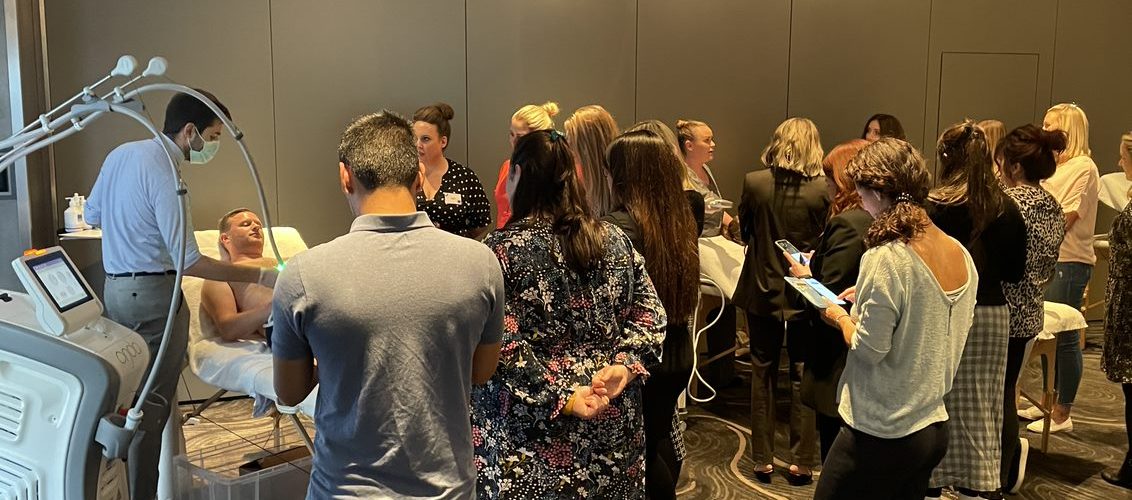 2021 has been an interesting year to say the least. We've taken great pleasure in being able to once again hold our Customer Workshops and we're grateful to everyone who was in attendance. We certainly think we came back with a bang!
This year, our Customer Workshops were held at Radisson Blu Edwardian, London and Cloud 23, Deansgate, respectively. If you didn't have the pleasure of attending either of these, find out more about how they unfolded below.
What Happens At One Of Our Customer Workshops?
When we conduct a Customer Workshop, we try to make the day as interesting as possible for our attendees. We also understand how important it is to look at your business as a whole, so we don't just talk about our amazing products. Yet, when we have products like Focus Dual®, we simply need to discuss them on occasion.
Hayley Jones, our Sales and Marketing Director, gave a talk on Focus Dual®. As most of our customers know, we rolled out the red carpet for this revolutionary device, which combines microneedling and HIFU technology to create truly unrivalled results in non-surgical skin tightening.
The fourth intake of the Focus Dual®'s exclusive launch programme will soon be underway. If the popularity of the first three intakes is anything to go by, we have no doubt that this is set to be a roaring success. To stay up to date with the latest news about all things Focus Dual®, don't forget to keep in touch. As busy as our team are, they still find time to share their invaluable knowledge with our customers.
Some of the speakers at our workshops are from our very own team, including none other than Lynton CEO, Dr Jon Exley (PhD), MD. Jon discussed how we got through the Covid-19 pandemic and how we helped our customers to do the same. He also spoke of how Lynton collaborated with the NHS with the manufacturing of ventilators, which was, and still is, a huge source of pride for us.
There's Much More To A Lynton Customer Workshop…
A huge part of our success lies in the fact that we provide our customers with an extensive range of after-sales support to help them with every aspect of their businesses. With this in mind, we were honoured to include a talk from Ruth Zawoda Clea at one of our last workshops. Ruth is an entrepreneur and the founder of Truly Content, a marketing agency situated in Leamington Spa, as well as one of the co-founders of La Fuente Clinic, a Southam-based aesthetics clinic.
During her time with us, Ruth shared her knowledge of all things Instagram. Richard Crawford-Small, the founder of The Aesthetic Entrepreneurs Group, was also in attendance and he spoke to our attendees about how to build a £1M business.
With the inclusion of these speakers, we aimed to show our customers what's possible for their businesses. We know that, at times, it can seem as though all of your contemporaries are already several steps ahead, but that won't always be the case. We realise how important it is to hear from people who have been in the exact same position as you, especially when you have a fledgling clinic.
Just remember, when you're at the beginning of your journey, the Lynton team is here to help every step of the way. Even if you've been with us for a number of years, our workshops still provide our customers with vital information on the latest updates within the industry.
Learn About The Latest Advancements
Our industry is one that is constantly evolving. At Lynton, we strive to create new and innovative products and we will do so for many years to come! But it's not just our equipment that's important – knowledge is also one of the most valuable commodities at our disposal. Sharing invaluable wisdom with our customers is something that is vital to us and we take every opportunity we can to do so.
For this reason, we invited Kerry Belba to speak at our workshops this year. Kerry is a member of the BMLA board, as well as being Clinical Director, Laser Practitioner and Trainer at Laser Skin Solutions. With her immeasurable experience and expertise, she spoke about the latest advances in the treatment of rosacea with IPL.
Fantastic Feedback
"I cannot fault anything from today! Really enjoyed it". – Amy Ronksley, Christine Clarke Clinic
"Very informative! You're doing a great job, thank you!" – Irina Gorianova, The Laserina Clinic
"I always leave the workshops with new information and inspiration!" – Emily Markie, Face Facts Buxton
There's nothing we love more than hearing from our attendees following our workshops. As well as providing our customers with state-of-the-art laser and IPL devices, we also like to educate and inspire.
We really can't thank everyone enough for making sure our Customer Workshops were such a spectacular success! After being unable to hold events like these for well over a year, it was truly fantastic to get back to what we do best. We can't wait to see you at our next one!
Get In Touch
For now, at least, that's everything about our 2021 Customer Workshops. If you have any questions about our products, or would like to share your own feedback on one of our workshops, please feel free to get in touch. Contact us by emailing info@lynton.co.uk or calling 01477 536 977.
To keep up with the latest news from Lynton Lasers and to find out when our next workshops will be held, follow us on Facebook and Instagram.