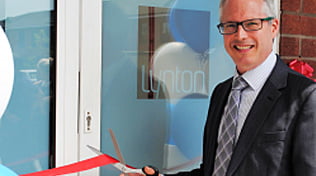 Lynton Lead the Way in UK Laser Manufacturing & Training 
In the In the early 90s, a small team of PhD. Physicists from The University of Manchester decided to commercialise their latest project – one of the worlds first laser & IPL technologies for aesthetic applications.
Fast forward 24 years, on the 24th of May 2018, Lynton reached yet another milestone in its history, as the company launched the all-new UK laser manufacturing and training facilities – The Lynton Technology Centre & The Lynton Training Academy.
A range of industry colleagues attended the opening event, which consisted of Champagne and Canopies', together with 'Behind the Scenes' tours. Guests were provided with the opportunity to gain insight into the workings of an ISO13485:2016 medical-device certified laser manufacturer, with a chance to gain some 'real hands-on' experience of building, aligning and firing lasers.  
Exponential growth and demand for Lynton manufactured laser & IPL devices has been the driving force behind the company's most substantial ever £500,000 investment, with expansion unfolding across all areas of the business.
Dr Jonathon Exley, Managing Director at Lynton: "Today's launch event has been a fantastic opportunity for all our customers and industry colleagues to celebrate this incredible achievement and milestone in the company's history. We feel the behind-the-scenes access helps people see and experience the lengths and measures we adhere to in ensuring we meet the level of high-quality manufacture and service required by our customers".
The new Cheshire-based manufacturing and training facilities have been designed to accommodate both the growing demand for Lynton's aesthetic devices and training courses, but also to provide the resource and infrastructure required to remain a world-leader in the development, innovation and manufacture in laser aesthetics, surgery and conservation.