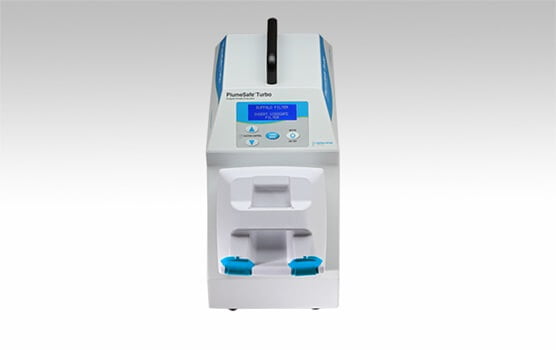 Laser Plume
One significant issue Aesthetic practitioners face as we move forward post COVID-19, is the generation of laser plume, smoke-like particles released from the skin during Laser and IPL treatments.
Laser plume is known to contain aerosol which, in some circumstances, can contain viruses. Whilst it's not yet known if laser plume could transmit the Coronavirus, The British Medical Laser Association state that high efficiency smoke evacuation systems should be used to reduce plume generated during laser treatments.
PlumeSafe® Turbo
PlumeSafe® Turbo provides Aesthetic practitioners with an ideal solution to a challenging issue. This is a certified medical device used regularly in NHS laser surgery. This powerful portable surgical grade smoke evacuator is design with sufficient flow for the aesthetic market.
Surgical smoke evacuation systems effectively filter viruses. The PlumeSafe® Turbo reduces aerosol and plume generated during laser procedures but should be considered as an adjunct to general hygiene including hand washing, PPE and adequate ventilation systems.
It features:
10 adjustable suction settings
Turbo mode
An interactive LCD display
Filter tracking technology.
The compact device can easily be placed on a counter, shelf, floor or other locations convenient to the operative area.