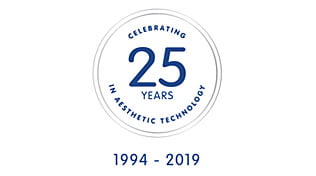 The 25th birthday celebrations have started at Lynton Lasers in July with their annual summer staff conference which took place at the Victoria & Albert Marriott hotel in Manchester. Every year Lynton staff meet to discuss new developments and opportunities for their ever-growing business with this year focusing on exciting plans for the future, including exciting upgrades to their product portfolio. For staff, this year was extra special with celebrations moving to The Great John Street Hotel Roof Top Lounge, Manchester where they enjoyed drinks, shared laughter and reminisced on the past 25 years together.
To add to the quarter of a century of success in the Aesthetics Industry, Lynton are running a 25 years campaign #weuseLynton to celebrate their customers successes and further commissioned a project to commemorate their heritage by presenting a surprise custom-designed "Manchester Bee" to their staff.
Despite being pipped to the post for their original target, the science-based 'STEM' bee at the highly successful 'Bee a Bidder' event last October, Lynton, in true Mancunian spirit, overcame their disappointment by working hard on securing a 'Plain Bee'. The Manchester Bee: the iconic symbol that best summarises the city's reputation for hard work and tenacity – precisely the reason why Manchester-born laser manufacturers, Lynton persevered in their quest to secure their very own 'Bee' in commemoration of their 25th anniversary this October.
"We are delighted to be celebrating Lynton's 25th anniversary this year and to commemorate the event, we have commissioned our very own "Manchester Bee". Originally symbolising the industrious workers of Manchester, the "Manchester Bee" has recently become a recognised symbol of the city. So with Lynton's origins and continued links to both the city and the University of Manchester, we have commissioned its very own "Lynton Bee" which we unveiled at our recent company 25 year celebration" said Jon Exley, Managing Director of Lynton Lasers, "The Lynton Bee captures a chapter in Lynton's long history and reminds us of how far we've come since the development of our first tattoo removal lasers back in the science lab. I welcome any of our many customers and course delegates to come and see the Lynton Bee which now takes pride of place in our prestigious training centre!"