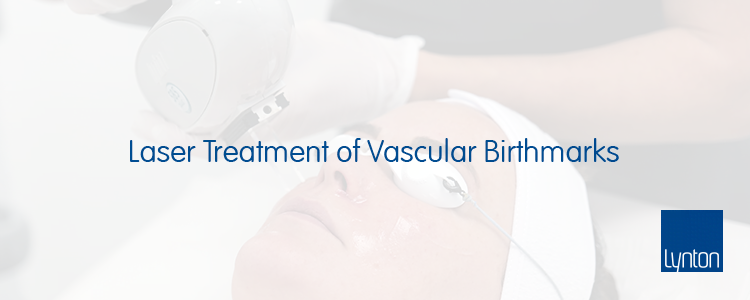 Laser Treatment of Vascular Birthmarks
Dr Samantha Hills, C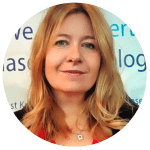 linical Director, Lynton Lasers Ltd
A wide variety of birthmarks can be treated safely and effectively with lasers, but it is critical that the right laser, with the correct wavelength and pulse duration, is used for the job. The choice of the laser will depend on the type of birthmark being treated and we can generally divide these into vascular lesions or pigmented lesions, both of which will require very different types of laser.
Types of Vascular Birthmarks 
The two most common types of vascular birthmarks are Capillary Vascular Malformations, more commonly known as Port Wine Stains, or Haemangiomas. Haemangiomas are the most common type of vascular birthmark, affecting 12% of newborn babies (up to 22% of pre-term infants), but they always resolve in early childhood, and by the age of 9, 90% of these will have undergone complete involution. Because of this, laser treatment is rarely warranted, except in complicated cases, where the lesion may be ulcerated or interfering with functionality (e.g obstructing the eye or airways).
Port Wine Stains 
Port Wine Stains are less common, affecting 0.3% of the population, however, they do not resolve spontaneously and often get darker and more prominent with age. The gold standard for Port Wine Stains is usually Pulsed Dye Laser treatment, although KTP and Nd:YAG lasers and Intense Pulsed Light systems have also been shown to be useful. The short pulse durations of Pulse Dye Lasers make them ideal for the treatment of pale pink lesions (as usually seen in children) but also result in severe bruising after treatment. The longer pulse duration of KTP, Nd:YAG, and IPL systems avoid this bruising and may make them more suitable for the treatment of lesions not responsive to PDL laser, and those with larger diameter vessels (such as the purple and red lesions seen in adults).
Conclusion 
Laser or light treatments are by no means a 'magic wand'. Even after multiple treatments, only 10% will show complete clearance and unfortunately, 20% will show little or no response. However, 70% of lesions will show a good degree of fading, making them far easier to manage with skin camouflage techniques.
Port Wine Stain Before and After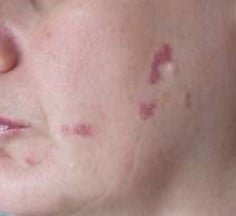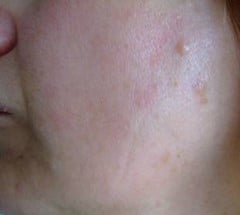 Port Wine Stain before and after 4 IPL treatments (Courtesy of Gillian Hart)
---
Please find details of our comprehensive laser training courses at www.lynton.co.uk/aesthetics-training