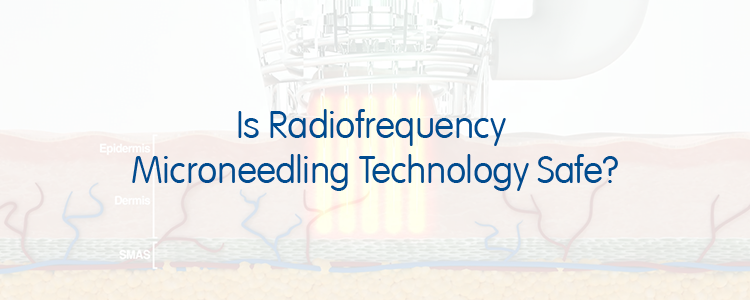 Radiofrequency Microneedling, otherwise known as RFM, is a popular procedure that can safely and effectively address a host of skin concerns, producing effective results for your clients with virtually no downtime. This innovative procedure takes skin rejuvenation with Microneedling to the next level.
Read more to find out why Radiofrequency Microneedling technology is a safe and effective treatment to add to your portfolio. 
RFM Treatments are Performed Safely with Minimal Downtime
A Radiofrequency Microneedling machine is a great addition to your clinic if your clients are looking to reduce wrinkles, fine lines, crepey skin, pore size, acne scars, or the overall appearance of their skin, whilst being able to return to their day-to-day activities within 1 day!
RF Microneedling can offer similar results to ablative laser procedures, but with significantly less discomfort and downtime. Skin is typically red for the first day or two after treatment, but the redness is typically mild and much less than is often seen with laser procedures.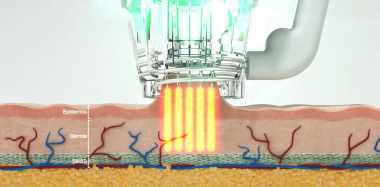 With our Focus Dual RFM machine, you can optimise treatment parameters depending on your client to ensure safety and efficacy. As Microneedling with Radiofrequency has good depth control and delivers energy directly into the target area without loss of energy, it can be used with greater safety to treat certain problems that would otherwise require an aggressive laser or peel resurfacing procedure (Dermatology Times, April 2020).
Radiofrequency Microneedling is Safe on ALL Skin Types
Unlike lasers, Microneedling with Radiofrequency delivers energy in a way that is not chromophore dependent. Therefore, it is safe to use in patients with darker skin types (Dermatology Times, April 2020). This means you can treat a higher percentage of clients who walk through your door.
Non-Insulated Needles Deliver a Safe Treatment
Focus Dual uses ultrafine, non-insulated microneedles creating a safer treatment with less bleeding and discomfort versus other devices. Non-insulated needles are believed to reduce pinpoint bleeding and the risk of infection post-treatment, as small capillaries in the upper layers of skin are sealed in this heating process. Read more about non-insulated needles here: click here. 
Accurate Treatment Depths with Advanced Vacuum Technology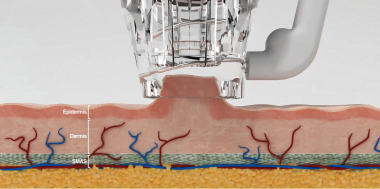 The Focus Dual is the only Radiofrequency Microneedling device on that market that uses advanced vacuum technology to stabilise the microneedles for safer and more precise treatments, especially useful around the delicate eye area.
The ability to use vacuum suction alongside Microneedling and RF allows for deeper penetration of the needles and energy.
Safety Assist Transducers (SAT)
Safety Assist Transducers (SAT), unique to the Focus Dual, emit high-intensity ultrasound waves in a unique pattern that avoids unwanted overlap in the surface tissues. This reduces post-inflammatory hyperpigmentation and discomfort for all resulting in a safer treatment.
Focus Dual Radiofrequency Microneedling Machine
Learn more about our Focus Dual Radiofrequency Microneedling Machine here, or get in touch to speak to a specialist who can give you more information.