Introducing Radiofrequency Microneedling (RFM)
Focus Dual is a revolution in non-surgical skin rejuvenation and non-surgical skin tightening procedures. In this blog, you will learn what to expect when choosing to introduce this innovative treatment to your clinic portfolio. 
What is Radiofrequency Microneedling?
Radiofrequency Microneedling otherwise known as RF Microneedling produces effective results for your clients, with virtually no downtime. This professional RF Microneedling machine works to lift, firm, and tighten skin on the face, neck, and body using a combination of Radiofrequency, alongside an array of super-fine sterilised microneedles. It works by stimulating the body's natural production of collagen to provide immediate results that continue to improve over time.
If you are looking to reduce wrinkles, fine lines, crepey skin, pore size, acne scars, or stretch marks and improve the overall appearance of your clients' skin – this RF Microneedling device is for you. RF Microneedling is also suitable for: skin tightening including neck tightening, face tightening, pore tightening, and more…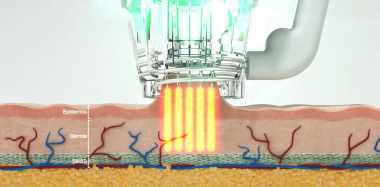 How does Radiofrequency Microneedling work?
Focus Dual RF Microneedling combines the benefits of traditional Microneedling with the power of Radiofrequency energy. This medical-grade Radiofrequency Microneedling device uses ultrafine needles to penetrate the skin and deliver Radiofrequency (heat) energy to deeper layers of the skin.
As the needles are released into the skin, Radiofrequency energy is also distributed deep into the dermis skin layer. Each micro "injury" creates a channel that triggers the body to produce new collagen and elastin to fill the microscopic wound. As skin rejuvenation treatments are targeted at variable depths below the skin surface, healthy skin is left undamaged causing minimal discomfort and less downtime when compared to invasive procedures.
The addition of Radiofrequency technology alongside microneedles creates heat zones, that generate the direct thermal heating of the dermis. This heat in the dermis skin layer also results in new collagen production and subsequent dermal thickening up to 12 weeks post-treatment. This device tightens the skin from the inside out. A treatment that keeps on giving!
What happens during a Radiofrequency Microneedling treatment?
For facial rejuvenation, a typical Focus Dual treatment lasts between 30 minutes to an hour. To begin the treatment, you will cleanse the skin, removing any dirt or makeup from the surface of the skin. Next, you will begin using the Focus Dual Microneedling handpiece that contains super-fine needles. When the handpiece is stamped onto the skin, you will feel light pressure as the needles create micro "injuries" in the skin, to trigger collagen induction. Most patients describe that the sensation feels warm and slightly pinchy.
There is virtually no downtime required after receiving Focus Dual RF Microneedling. Once the treatment is finished, the skin may be slightly pink with some swelling. This will resolve quickly. Makeup can be applied after 24 hours post-treatment.
Your clients should avoid generating too much heat in the treated area post-treatment e.g., avoid long showers and baths which could trigger flushing of the skin. This is to keep skin vessels closed and to improve the efficacy of the treatment.
How many treatments will your client need?
Depending on the skin concern, we usually recommend a course of 3 treatments, during your consultation we will customise a treatment plan to suit your client's needs to ensure optimal results.
Who is a good candidate for Focus Dual Radiofrequency Microneedling?
Ideal candidates for Focus Dual RF Microneedling may have mild-moderate signs of ageing including fine lines, wrinkles, acne scars, enlarged pores, sagging skin, uneven skin texture, uneven skin tone and more. Unlike many other treatments, this medical-grade device is effective in improving the appearance of skin issues on the face, neck, and body. This treatment is also effective on stretch marks.
Focus Dual Radiofrequency Microneedling provides impressive results for people of all ages and ALL skin types and tones, including tanned skins. That is why we are so excited to share this revolutionary technology with you.     
When will you see results?
Immediately after treatment, your skin will be sensitive and slightly red, so it is essential to wear sunscreen, especially during this time. You can apply the Lynton Light Protect SPF 50 which is made up of anti-bacterial healing properties. Within a day or two, you will begin to see a more radiant, even complexion. The skin will continue to improve up to 12 weeks post-treatment, as the natural production of collagen and elastin is triggered.  
Does this sound like the device for you?
Our Focus Dual RF Microneedling machine offers completely customisable treatment options. During treatment, you can adjust needle depth and the Radiofrequency energy can be customised to suit skin type, level of concern and desired results, making this treatment an excellent solution for a variety of skin concerns. This is exactly why we love this treatment and why so many of our customers do too. 
Get in touch to book a demonstration, or to speak to a specialist to find out about a unique launch programme opportunity. 
Enquire Today