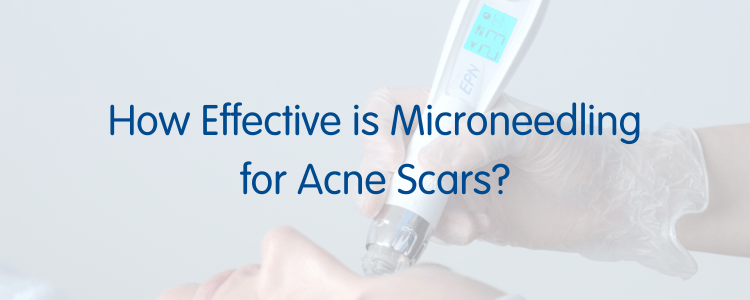 As we move into June, we enter into Acne awareness month. Acne is a common concern, about 95% of people aged 11 to 30 are affected by acne to some extent, with around 3% of adults experiencing acne over the age of 35[1]. It is believed that one out of five acne sufferers will develop scars.
Within the aesthetics industry there are multiple treatment options that can be utilised to improve the appearance of scars including dermabrasion, chemical peels, fillers, laser resurfacing, and microneedling. In recent years, microneedling has become a popular scar-reduction treatment for patients due to the minimal side effects and downtime associated when compared to other available treatments. Lynton's latest device EPN Pen utilises microneedling and electroporation technology to provide an effective solution for the treatment of acne scars.
What causes acne scars?
Acne scarring is a skin condition that can develop because of acne. Scarring can occur as a result of any type of acne spot, but it is more common when nodules or cysts burst and damage nearby skin. When the skin is inflamed, extra blood cells move into the area. These cells turn on an enzyme production that includes specific wound-healing enzymes that produce collagen. In some cases, collagen-inhibiting enzymes, can overly increase collagen production. When this occurs, your body replaces the original skin with fibrosis tissue, leaving uneven texture and scars in the affected area.
How does EPN Pen treat acne scars?
EPN Pen, the world's first microneedling pen combined with electroporation technology, utilises microneedles to create tiny micro punctures which the body treats as small wounds. The purpose of creating these small punctures is to trigger your body's natural healing response; to produce and remodel collagen deep within the skin. Inducing the production of collagen helps to break down the fibrous tissue in the region of the acne scar and replace it with healthy skin tissue. Alongside improving the appearance of acne scars and uneven skin texture, EPN Pen can also help lighten the dark or red marks left behind from acne.
When compared to traditional microneedling treatments, EPN Pen practitioners have the added benefit of electroporation technology, which can be utilised alongside microneedling treatments or in isolation. When electroporation technology is utilised, an advanced HSR serum is applied to the skin. As a key ingredient in the HSR serum, hyaluronic acid is a critical skincare ingredient for hydrating the skin. Because hyaluronic acid is a natural filler and connector, the substance has a plumping effect, which can improve the appearance of uneven skin texture. This topical product can be applied to the skin during both microneedling and electroporation treatments. With EPN Pen, when both microneedling and electroporation are used in combination, patients' results are maximised for both skin hydration and collagen remodelling for the smoothing of acne scars.
What is electroporation?
Electroporation is a technique that involves applying an electrical field to cells in order to increase the permeability of the membranes, allowing products to enter the cell more efficiently and thus improving the topical serum's effectiveness.
The combination of microneedling and electroporation within one handheld device maximises the production of new collagen and elastin fibres, whilst delivering a safe and minimally invasive acne scar treatment for clients. This revolutionary pairing of technology means that clients' results are maximised as serums with high molecular weight are induced into deeper dermal layers.
CE Marked and Safe
EPN Pen sets the gold standard in microneedling and electroporation! EPN Pen is the first and only CE marked microneedling and electroporation device. 
The EPN Pen uses disposable needle tips and backflow-protected needle cartridges to minimise the risk of cross-contamination. The EPN Pen is a medically CE Marked Device registered with the MHRA. 
To Conclude
EPN Pen is an effective non-surgical treatment for improving acne scarring. For patients, this treatment provides both short-term and long-term benefits. In the short-term, clients will see an immediate improvement in their skin which is often described as a 'glow'. For long-term benefits in time patients will see an improvement in acne scarring as collagen induction takes effect. Courses of treatments are recommended for clients to see the most effective results.
Alongside acne scarring treatments EPN Pen is also effective for treating a range of issues, from surgical scars to uneven skin tone, uneven skin texture, large pores, stretch marks, fine lines, and wrinkles.
Before and Afters
EPN Product Launch
To watch EPN Pen's official product launch on demand click here. 
More Information
Get in touch to find out more.