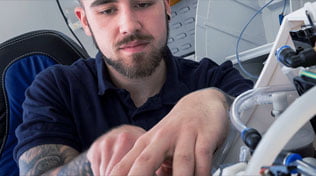 Expert Advice from Clinical Director at Lynton, Dr Samantha Hills
Anyone who owns a car or combi-boiler knows that there are certain types of equipment that need a bit more tender loving care than others. But is it really necessary to get your laser equipment serviced on a regular basis?
Use High-Quality Equipment 
Other than buying property, purchasing a laser system is often the single biggest investment many of us will make, so, therefore, longevity of your equipment is key – the better your system is maintained, the longer you can expect it to be making money for you (at Lynton, the very first laser system we sold in the UK nearly 25 years ago is still in regular use!
Regular Servicing
Regular servicing can pick up any issues with the system that might be putting stress on delicate components, which means that they last longer, avoiding costly repairs later down the line. For example, it's essential that optical components are regularly checked as over time, even tiny specks of dirt or debris can damage the coating on lenses and mirrors. Regular servicing also ensures a constant and calibrated output, enabling you to deliver safe and effective treatments for your clients, and retain valid insurance cover. 
How often your system needs servicing will vary depending on the type of laser or light device. IPL systems, on the whole, have fewer delicate optical components and generally just require one service visit per year, but most laser systems require 2-3 services. Some very high precision lasers such as those used for corrective eye surgery are serviced every two months. Speak to your supplier who will be able to advise you on what is required for your particular system.
To find out more
For more information please contact us on 01477 536 977 or email info@lynton.co.uk.
You can also see our feature published in Professional Beauty: Click here.