This blog is copyrighted to Clinic 10.

Focus Dual For Deep Acne Scarring
The Focus Dual Radiofrequency (RF) Fractional Microneedling device really is a game-changer in the beauty and aesthetics industry. It combats deep acne scarring and rejuvenates the skin. It is the skin treatment that everybody is talking about; it's all over social media, the internet, and you may well have seen Judy Murray's amazing transformation on Instagram. Many other celebrities are absolutely loving the results.
How Does The Focus Dual Target Deep Acne Scarring?
Microneedling creates tiny pinpricks on the target area and stimulates the skin's natural healing response. Collagen production is increased which plumps out the skin and smoothes and tightens its surface. This results in a more even texture, fewer lumps and bumps, and a reduction in pore size.
Using ultra-fine medical-grade needles, the Focus Dual now makes it possible to accurately deliver the exact amount of Radiofrequency to the required depths of the skin. The Radiofrequency heats the underlying layers, stimulating collagen production and tightening the skin.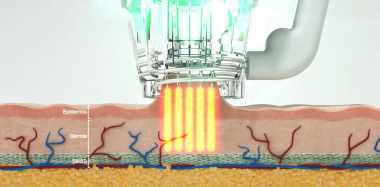 Precisely targeting and treating both the epidermis and the dermis, Fractional Radiofrequency Microneedling achieves better results than other popular acne treatments. Due to its accuracy, the treatment requires very little downtime with the skin settling within just a few hours.
If acne scarring, ice-pick scarring, and deeper acne scarring are getting you down, Fractional Radiofrequency Microneedling is the perfect solution. Treatments can be performed in your lunch hour with minimal discomfort and virtually no downtime.
Focus Dual Exclusive Launch Programme
Get in touch to find out more about the Focus Dual and an Exclusive Launch Programme designed to maximise return on your investment, bringing you success like never before!