This blog is copyrighted to Kerry Belba at Laser Skin Solutions.
Seeing Red
Kerry Belba, Laser practitioner, Laser trainer, Key Opinion Leader (KOL) and the first aesthetic laser practitioner to have recently been voted onto the British Medical Laser Association (BMLA) board, explains that knowing your rosacea subtypes is key to both calming this inflammatory condition and providing successful treatment plans for your clients.
Kerry: "During my 16 years as a laser practitioner and clinic owner in Bournemouth, I have seen my fair share of rosacea clients. This progressive inflammatory vascular condition, usually affecting (but not limited to) white, northern European skin types, can often be the source of daily misery, anxiety and mental health issues for many people.
The good news, however, is that Laser and Intense Light Sources (IPS), commonly known as Intense Pulsed Light or 'IPL' can be extremely effective at managing this incurable disorder, giving clients and patients the relief they desperately crave.
What Is Rosacea?
Rosacea is a chronic vascular skin condition, usually affecting the face. It tends to present in lighter skin types and is characterised by facial flushing, redness, visible broken capillaries or thread veins, as well as red bumps or 'spots' which are often confused with acne. In severe cases, rosacea is also sometimes mistaken for eczema or an allergic skin reaction. It is more common in women, but when affecting men the symptoms can be more severe.
Rosacea mainly affects the nose, cheeks, chin and forehead, but can also cause inflammation and irritation of the eyes and eyelids, known as Ocular Rosacea. Although it is far more common in lighter skins, it can also affect people of colour. Whilst it can often be hereditary, the pathophysiology of this condition is largely unknown.
Rosacea has four distinctive subtypes and knowing how to recognise these is essential to providing successful treatment plans for your clients. As an aesthetic laser practitioner we are not diagnosing skin disorders, but rather drawing on our education and training to recognise skin conditions as being either appropriate for treatment, or in need of referral to a doctor or dermatologist. It's essential that practitioners do not automatically assume that all rosacea types are suitable for laser or IPL as the first port of call. 
Knowing and recognising the rosacea sub-types is critical to your client or patient's journey and their treatment plan. 
What Are The Subtypes Of Rosacea?
There are four main subtypes of rosacea with a fifth type now being more commonly recognised and referred for treatment.
Erythematotelangiectatic rosacea: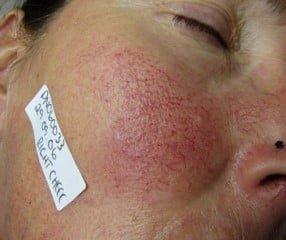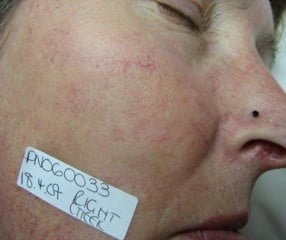 Client treated at Laser Skin Solutions Bournemouth with the Lynton LUMINA IPL 585nm handpiece
This very common subtype of rosacea presents with permanent erythema (redness) with a tendency to flush and blush easily. Usually, small blood vessels are visible near the surface of the skin and are often accompanied by burning or itching sensations. Laser, IPL, and LED are excellent treatment options for this subtype.
Kerry's treatment approach is to clear as many of the vessels as possible using IPL, followed by a course of LED light therapy to address any residual redness. It's important to clarify that only Lasers or IPLs will actually get rid of broken veins and capillaries by heating and coagulating the blood. White blood cells (macrophages) then clear up the dried blood in the same way that the body clears a bruise, a process called phagocytosis. Whilst LEDs are not able to coagulate and clear broken vessels, powerful medical-grade LEDs are excellent at vasoconstriction and reducing general redness. Topical creams prescribed by doctors can also provide short-term relief.
Papulopustular (inflammatory) rosacea: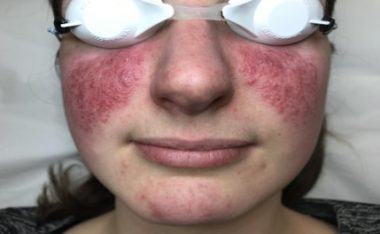 Papulopustular rosacea can be difficult to treat. It is essential that the inflammation is brought under control with medications or LED phototherapy before treating with Laser or IPL.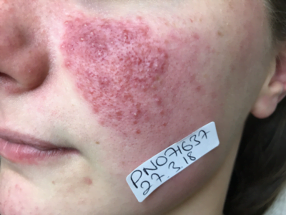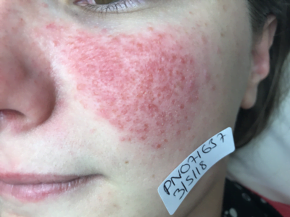 Client treated at Laser Skin Solutions Bournemouth with a combination of the Lynton LUMINA 585nm handpiece and Dermalux LED phototherapy. 
This equally common rosacea subtype can present with some, or quite substantial permanent redness accompanied with red bumps (papules) with some pus-filled (pustules) which typically last 1-4 days. This subtype is often confused with acne and historically was referred to as acne rosacea.
Interestingly, the common Demodex mite, (D. folliculorum) naturally present in our skin, seems to go into reproduction overdrive in patients with papulopustular rosacea. The National Rosacea Society in the USA estimates that rosacea patients have up to 18 times more D. folliculorum mites than patients without rosacea. It is not clear whether the mite itself is the cause of this very inflammatory subtype of rosacea, or whether the increased inflammation is in fact providing the perfect breeding ground for these mites to go into overdrive.
Treatment of this subtype should include a multifaceted approach. Anti-inflammatory prescription treatment (topical or systemic) will help to reduce the inflammation. Soolantra or 'Ivermectin' gets rid of the demodex mite but also has anti-inflammatory properties. If unsuccessful after three months, antibiotics like Doxycycline can be prescribed for their anti-inflammatory effect. For a non-medicated approach LED light therapy can prove very effective at both reducing the inflammation in the skin and providing relief to the client. Patients can then be assessed on a case-by-case basis for Laser and/or IPL but only once the inflammation has subsided.
Phymatous rosacea
: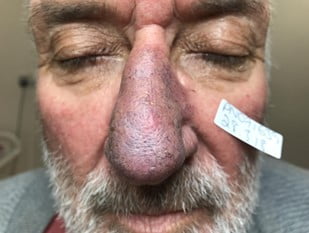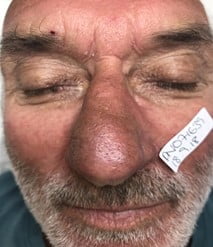 Here you can clearly see the beginnings of rhinophyma where the skin on the nose has started to thicken.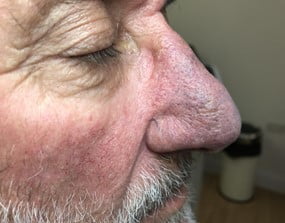 Client treated at Laser Skin Solutions Bournemouth with the Lynton Lumina IPL 585nm handpiece. 
This subtype is commonly associated with rhinophyma, a progressive skin condition causing the development of a large bulbous nose. Sometimes referred to as a 'drinker's nose', alcohol has in fact little to do with the pathology of phymatous rosacea (or indeed any form of rosacea) but can exacerbate the symptoms like flushing, redness, heat and discomfort. Other symptoms include thickening of the skin and irregular surface nodularities. Phymatous rosacea can affect the chin, forehead, cheeks, eyelids and ears. 
Laser and/or IPL can be used in a bid to stop or slow the progression of Phymatous rosacea. Nasal reconstruction can also be achieved using an ablative CO2 laser. 
Update Your Rosacea Knowledge
From a practitioner point of view, it is essential to continually update your rosacea knowledge and advances in the understanding of this complex skin condition, by following organisations like 'Rosacea.org' and becoming members of bodies like the British Medical Laser Association (BMLA); a unique platform for the exchange of knowledge, ideas, recent advances, and everything else in the field of lasers and light-based devices. This fantastic organisation is for all medics, surgeons, nurses, technicians, aestheticians and scientists who are directly or indirectly involved in the use of such devices for improving their patients' and clients' health and wellbeing.
In summary, combining your own continual professional development as a laser practitioner, and taking a holistic approach with your clients, helping them to establish what their flare-up triggers are, not only empowers them to manage their own condition but provides the best chances of daily relief from this lifelong skin disorder.
Find out more about Lynton devices by going to our products page.